Unite says members "angry" at the pay offer of a 1.6% pay rise over two years and warns of widespread protests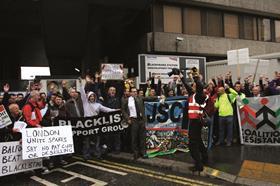 The dispute between contractors and unions over pay talks for 500,000 construction workers could spark widespread protests on the scale of the BESNA dispute, union Unite has warned.
John Allot, Unite national officer, said members were "angry" at the contractors' pay offer of a 1.6% pay rise over two years.
He said Unite members would discuss the possibility of industrial action in a meeting scheduled for mid-July.
Allot said the dispute had the "potential to be like BESNA" – a six-month dispute in the M&E sector which ended in February after employers dropped proposed changes to workers' pay and conditions.
The BESNA protests included a 1,000-strong London rally, a sit-in at a contractor's headquarters and violent clashes with police.
The Construction Industry Joint Council (CIJC) wage talks broke down last month after unions rejected the firms' proposals on the grounds they did not reflect the increased cost of living.
The employers initially offered no improvement in pay for CIJC workers in early June.
Allot said: "With inflation last year at 5% and still running this year at 3%, this offer is a pay cut.
"Industrial action is a last resort [but] we will be talking to our members and informing them that progress has been slow and disappointing.
"We haven't manned the barricades yet, but certainly many of [our members] are going to be angry."
A source close to the contractors called for a "period of reflection" for both firms and unions.
The source said: "We all value [the CIJC] agreement but there's no commercial or economic argument for giving a pay rise at the moment.
"1.6% is not much but it's better than nothing. The unions have not asked for another meeting – we are in a state of limbo."
Unite was at the heart of the BESNA protests and organised many of the demonstrations, including the 1,000-strong rally in London last September.