Housebuilder interest in developer's land remains firm, but show home visits down in the past month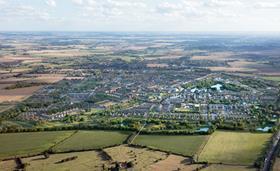 Developer Urban & Civic said interest in show homes built on its plots had declined in the past month, but while continued wariness was likely to hit delivery rates, interest from housebuilders in its land had not diminished.
The firm, which owns or oversees nearly 7,000 acres of land in Buckinghamshire, Cambridgeshire, Northamptonshire and Nottinghamshire, said that while the immediate outlook was "terribly difficult to evaluate" the level of sales on its sites in the year to 30 September 2018 had comfortably exceeded forecasts made 12 months ago.
Since the close of its financial year at the end of September 2018, 953 additional plots had been contracted or placed under offer with nine different housebuilders, it added, although "general public caution will obviously impact upon delivery rates, if sustained".
Reporting turnover of £159.4m and pre-tax profit of £22.3m – both boosted by sales of the firm's remaining commercial assets – Urban & Civic said total site sales were 445, compared with previous guidance of 315.
The firm said housebuilders were "queuing round the block" to build out plots at its scheme on the former Waterbeach barracks scheme (pictured) being developed for the Defence Infrastructure Organisation, "such is the shortage of good quality, well priced, new housing versus demand in North Cambridge".