Engineer lodges amended defence in dispute over south London £300m energy-from-waste project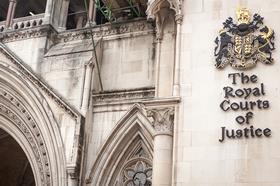 Engineer URS has hit back at contractor Costain in the firms' ongoing High Court battle over an alleged failure to spot design defects on a £300m energy-from-waste facility in south London.
URS has lodged its amended defence in response to a £10m-plus claim lodged against it by Costain, both filed at the High Court and seen by Building. The claim relates to design problems on the Riverside Resource Recovery Facility in Belvedere, which burns rubbish to power 100,000 homes.
Costain was design and build contractor on the plant, working for overall engineering, procurement and construction contractor Hitachi Zosen Inova (HZI). Costain hired URS to independently check design work for the plant, produced by engineer Jacobs.
Costain claims URS failed to alert it that Jacobs' designs for steel supports to two grab cranes, which transfer waste into containers leading to furnaces, would not withstand fatigue for the intended 40-year design life, meaning they had to be replaced at a cost of £6.1m.
In its defence, URS claims it was "prevented from checking Jacobs' steelwork design by lack of information" until mid-2009, by which time "significant construction was underway and steelwork was already being fabricated".
URS claims that at a May 2009 meeting with Costain, it was orally agreed that URS would, from that point, only be required to check later designs than originally intended for the steelwork; namely that steel fabrication drawings issued by steelwork subcontractor Bourne complied with "for construction" drawings by Jacobs.
URS claims it subsequently raised 18 unanswered technical queries with Costain about the steelwork, including one in June that identified a "fundamental flaw" that a key support "was overstressed by 31%".
URS further claims it had "no requirement to carry out a fatigue analysis" as Costain alleges and makes "no admission" the steelwork required a 40-year design life.
URS also claims Costain "did not take reasonable steps to mitigate its loss" and if it had acted more promptly could have limited its loss to £1.8m. In the claim, Costain said it had resolved separate disputes with HZI and Jacobs over the scheme. Costain said it had settled a claim made by HZI for £6.8m, while Costain had separately "successfully pursued" Jacobs for damages at an adjudication, in which it was awarded "losses up to the contractual cap contained in [Jacobs'] design contract of £2m".
HZI, URS and Bourne declined to comment. Costain and Jacobs were contacted for comment. The case with URS is ongoing.