New York Review of Books posts statement on website
The New York Review of Books has apologised for an "error" it made about Zaha Hadid when its architecture critic criticised her attitude towards the plioght of construction workers in Qatar during a recent book review.
Hadid claimed critic Martin Filler falsely implied she was indifferent to the alleged difficult working conditions of migrant workers on high-profile construction projects in the Middle East, including her own.
She also claimed Filler used large portions of his June 5 review of Rowan Moore's "Why We Build: Power and Desire in Architecture" to question her success and fault her personality, although she was not a prominent character in the book.
In her complaint, Hadid pointed to a passage where Filler said she "unashamedly disavowed any responsibility, let alone concern" for an "estimated one thousand laborers who have perished" while building the Al Wakrah stadium she designed for the 2022 World Cup in Qatar.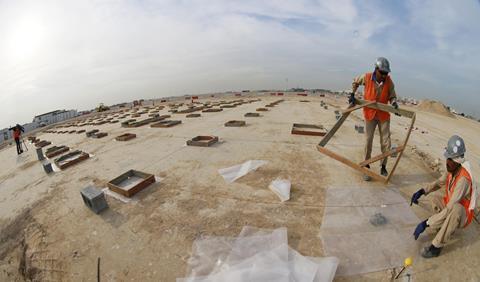 But in a statement posted on the magazine's website, Filler wrote: "In my review of Rowan Moore's Why We Build: Power and Desire in Architecture [NYR, June 5], I quoted comments by the architect Zaha Hadid, who designed the Al Wakrah stadium in Qatar, when she was asked in London in February 2014 about revelations a week earlier in the Guardian that hundreds of migrant laborers had died while working on construction projects in Qatar. I wrote that an "estimated one thousand laborers…have perished while constructing her project thus far."
"However, work did not begin on the site for the Al Wakrah stadium until two months after Ms. Hadid made those comments; and construction is not scheduled to begin until 2015. There have been no worker deaths on the Al Wakrah project and Ms. Hadid's comments about Qatar that I quoted in the review had nothing to do with the Al Wakrah site or any of her projects.
"I regret the error."
At the time, legal action was filed at the New York State Supreme Court in Manhattan, Oren Warshavsky, a partner at Baker & Hostetler, which is representing Hadid, said that Filler's review was "a personal attack disguised as a book review and has exposed Ms Hadid to public ridicule and contempt, depriving her of confidence and injuring her good name and reputation."
In a statement released after Filler's apology, Warshavsky said: "We are in receipt of Mr Filler's retraction issued today and aware of the New York Review of Books' plan to post it on their website. Ms Hadid together with counsel are reviewing it now and will respond after further careful consideration."
Magazine editor Robert Silvers told the Guardian that it had posted the statement on its website independently, not as a result of consultation with Hadid or her lawyers.
He added: "We have done this entirely on our own. This letter contains the facts that should be made public and the regret that we thought was appropriate."
Source
This story first appeared on Building Design here.