Combined Bovis and Linden business says it has 'coped better than expected' with lockdown
Housebuilder Vistry has taken orders for nearly 450 homes during lockdown, it said, as the firm reported "better than expected" performance throughout the lockdown.
The business, formed this year from the merger of Bovis Homes and Galliford Try's housebuilding arm Linden, said it had taken 447 reservations for new homes in the past eight weeks, though it had also seen 147 cancellations, with an "improving" rate of sale.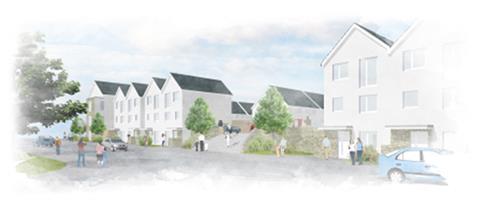 Sales per site per week have risen to 0.26 in last three weeks, and it has completed the sale of 257 homes since lockdown rules were announced.
Chief executive Greg Fitzgerald said the resilience and strength of Vistry Partnerships throughout the past two months has "proven our rationale for the acquisition" and that 5,600 staff had returned to site.
He said: "The Group's performance during lockdown has been better than initially expected in respect of reservations, completions and cash management. We are pleased by how effectively our site management and health and safety teams have adapted to the new operating procedures."
Vistry announced the closure of its construction sites and sales offices on March 25 following the imposition of lockdown, but was one of the first housebuilders to reopen construction sites, announcing a return to work at the end of April.
Today's update said that levels of website traffic have in recent weeks "returned to the levels we saw in January and February, indicating continued strong demand."
It said 104 of the firm's 107 "partnerships" sites – where Vistry builds homes for councils and housing associations – were open for construction and that, where open, sites were operating at 70% of capacity.
In contrast, just 119 out of 172 private sale housebuilding sites were so far open, and despite the reopening of the housing market by the government last week, Vistry said its "focus remains on the completion of homes which are watertight and where we have clear visibility of completion and cash realisation."
Despite its actions, Vistry said that net debt had risen by £36m in the last month during the lockdown, to £476m, against total committed banking facilities of £770m.
The business added that it had identified further cost savings during the integration of the group that will allow it to reduce the headcount of the business further, though it did not say by how much. The annual cost savings will be in the region of £9.5m.