Major road projects in doubt while future of £2bn rail project is also unclear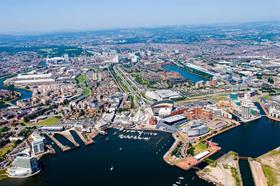 High-profile infrastructure projects in Wales worth hundreds of millions of pounds are now under threat after Brexit, the Welsh government has confirmed.
Improvement works to the A55 in the north and A40 in the south of Wales – worth a combined £300m and supplemented with £85m in EU funds – are now in doubt, while the future of the South Wales Metro also in jeopardy.
The £2bn metro project, which would integrate rail lines across the south of Wales and allow easier access from the regions to Cardiff, was set to receive a £150m boost from the EU.
When asked about the future of the projects, the Welsh government referred Building to a statement made by first minister Carwyn Jones.
Wales currently receives £500m a year in funding from the EU, mainly for the farming industry but with a significant amount spent on infrastructure.
Jones said: "During the referendum campaign, the Leave side made cast iron promises that this money would continue to come to Wales in the event of a vote to leave the EU.
"We require this funding assurance immediately, as there are hundreds of vital EU-funded projects right across Wales whose future is now in the balance unless that funding guarantee is given."
He added: "If that pledge is not honoured by the UK Government, it will have a devastating effect on our budgets, already stretched through years of austerity, and facing billions more in cuts as a result."
Wales voted 52.5% to 47.5% in favour of leaving the EU in last week's referendum.