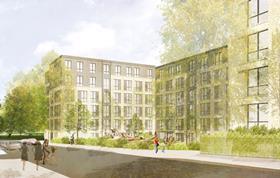 Brent Council has awarded Wates Residential a £23.4m contract to build 149 new homes by December 2021.
The Knowles House redevelopment in Harlesden will include the construction of two new buildings, providing 92 homes to be used as temporary accommodation and 57 units for independent living to support some of the borough's most vulnerable residents.
The scheme is part of the council's Temporary Accommodation Reform Plan, which will result in £130m spent on up to 600 new homes over a three-year period. Work is set to commence later this year.
Cllr Margaret McLennan, deputy leader of Brent Council, said: "The redevelopment of Knowles House is a key part of our plan to provide better quality accommodation for residents in need of housing, but the benefits of this project don't end there.
"In Wates, we'll be working with an organisation that understands our values as we seek to ensure job and training opportunities for local residents, particularly for our unemployed, and ensure that everyone involved in the project is paid at least the London Living wage."
As part of the project, Wates and Brent Council have made a joint pledge to provide employment and training opportunities for local residents. Commitments could include the creation of apprenticeships in trade and management roles and a Wates-managed 'Building Futures' programme for long-term unemployed adults.
Ex-offenders could also be helped into employment through the project as part of their rehabilitation, while partnerships could be made with Brent schools to provide pupils with meaningful insight into the construction sector, career talks and curriculum support.
Wates previously worked with the borough and Quintain on their transformation of Wembley Park.