Contractor refuses to comment on reports of bid for Shepherd as it unveils 2014 results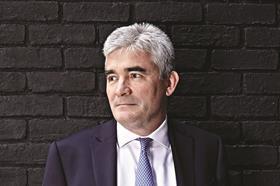 Contractor Wates Group will consider making further acquisitions in order to bolster plans to grow turnover to £2bn.
Speaking after unveiling a snapshot of the firm's results, chief executive Andrew Davies said the group, which grew turnover by 13% to £1.05bn in the year to December 2014, was on course to grow to £2bn and would look to add capability to the business through acquisition.
However, Davies declined to comment on reports that it is currently in negotiations to buy a large part of York-based rival Shepherd's construction business.
Wates' said in a statement that it made a pre-tax profit in 2014 of £22.6m, very slightly up on the £22.3m reported in 2013. Its operating profit margin fell slightly, to 2.3% from 2.5%, a decline which Davies said was due to difficult trading conditions and the fact a large number of new contracts were starting up. However, the firm's forward order book grew considerably to £3bn, up 21% on 2013, and it reported an improved cash position with approximately £80m in net cash.
Wates bought midlands-based £26m turnover housing contractor Purchase Group in November in order to help it expand its £70m response maintenance business. This acquisition contributed £6m to the reported turnover.
Davies said: "I'm always interested in capability-based and value-enhancing acquisitions. Our positive cash position allows us to continue to have an investment strategy. We're looking to invest in opportunities to grow our business.
However, he added: "I'm not in a position to make any comment on the speculation about our business last week." Building reported that Wates was in talks to take over parts of £686m-turnover Shepherd, which last year launched a review of operations after profits fell.
Davies said the full year numbers for Wates were "solid" and "robust". "The margin and profit numbers in our results reflect the nature of recovery, in which the supply chain is taking advantage of the greater opportunities as well."
Davies declined to say when the £2bn turnover target would be hit. "Wates has the systems and processes in place and now the operating framework which we put in place in 2014. I've always said it's capable of growing, and £2bn is a great target to have, but it remains an aspirational target."