Successful listing to aid expansion plans into the PRS sector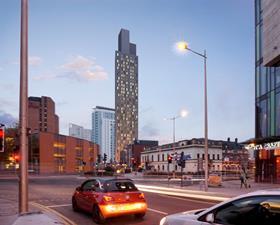 Welsh developer and contractor Watkin Jones has floated on the stock exchange, raising £131m from investors. The student accommodation specialist's market cap on admission to AIM was valued at £255m.
The company hopes the listing on the stock exchange will provide it with a platform for growth and allow it to proced with its expansion plans into the private rented sector.
Mark Watkin Jones, chief executive of Watkin Jones, said: "The strong reception that the company has received from investors has been very encouraging and we are delighted with the success of our admission to AIM, which is a significant milestone in the evolution of our business."
Watkin Jones was aided in its floatation by Zeus Capital acting as nominated adviser, joint bookrunner and joint broker, with Peel Hunt as joint bookrunner and joint broker.
Earlier this month the company achieved planning permission for what is set to become Wales' tallest building (pictured). Located in Cardiff it will provide student accommodation and retail at the ground level.