Leo Quinn says he would never had signed deal had he been in charge at time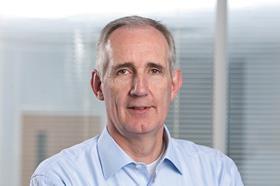 Balfour Beatty chief executive Leo Quinn has said bad weather on its scheme to build a bypass around Aberdeen has meant the firm has spent less than 10 days in the last three months laying blacktop.
The firm yesterday admitted in its 2017 results that Carillion's implosion in January had cost it £44m on the job which is now scheduled to finish this summer.
But doubts over when it will be finished – it had been due to be wrapped up before Christmas – have resurfaced after Quinn said the firm had only been able to lay blacktop and concrete on just eight days since the middle of December because of poor weather.
Balfour Beatty is carrying out the £550m PFI project with remaining joint venture partner Galliford Try, which last month took a further £25m hit on the scheme on top of losses it announced on the job last year.
Galliford Try's head of construction Bill Hocking has already said he would never have signed the deal had he been at the firm when it was inked and Quinn admitted he wouldn't have either.
The deal was signed just weeks before Quinn joined at the beginning of 2015 and Balfour's boss said: "It would never have got approval now [because of] the onerous terms and conditions, liabilities and liquidated damages."
Called the Aberdeen Western Peripheral Route, the 58km long road for Transport Scotland has been plagued by weather problems as well as issues with utilities diversions.
Quinn (pictured) said that despite working with Carillion on the road, he was given no inkling the firm would go under.
He said: "It surprised me. I knew it would take three or four years [for Carillion] to get out of it but I think they made important decisions too late."
Quinn, who joined the business as it was preparing to announce a £304m pre-tax loss for 2014 which he said was its "darkest hour", added: "We had to get stuck in [making changes] and there's no doubt the things we've done have made Balfour Beatty a stronger, safer company."
He said: "The management we had that got us into the mess has moved and we have more energy and better discipline. Culturally, we are in a very different place."
Quinn ruled out taking over Carillion's disastrous hospital jobs in Liverpool and the West Midlands and said interested firms – which are believed to include Kier, Skanska and Laing O'Rourke – needed to think twice before agreeing to finish them off. "Taking over jobs absorbs some of your best talent," he admitted.
Quinn has also overseen Balfour Beatty's withdrawal from a number of global markets including the Middle East last year which he said "was a real drain on the company's resources and management".
And he has drawn a line on raiding rivals for businesses. "We have no interest in acquisitions. Growth will be organic."
Quinn was speaking as the firm turned in an underlying profit of £196m from £69m in 2016. Pre-tax profit jumped from £10m to £117m with revenue remaining flat at £8.3bn.