Organisers want to produce 35,000 face masks a week

Around 20 architect practices are clubbing together to use thousands of 3D printers to help make face visors for the NHS.
The Industry Prints initiative, led by HTA Design and HOK's London Studio, is a co-ordinated effort to manufacture face visors to exact NHS specifications and distribute them directly to front-line workers. Other firms working on the initiative include Foster + Partners, PLP and Hopkins.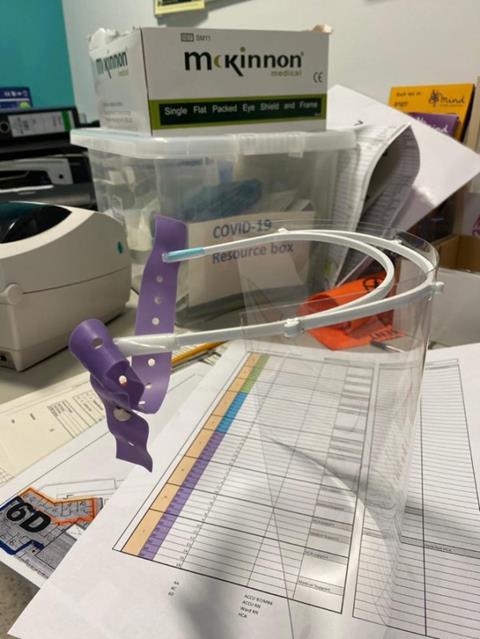 HTA Design and HOK's London Studio have worked directly with the NHS to develop an open-source pattern for the 3D printer to manufacture plastic headsets.
A product specification and downloadable instructions are available on the website.
Once printed, the headsets are then delivered to distribution hubs, fitted with visors, sterilised, and distributed to hospitals where the greatest shortages have been identified by the NHS.
The initiative has the capacity to produce over 4,000 face visors per week but the backers of the scheme want to dramatically increase this up to 35,000 protective masks per week.
Richard Foxley, senior associate at HTA Design, who started the initiative, said: "This is a call to action that goes beyond the architecture profession: Anyone with a 3D printer and the right materials can visit our website and find out how to get involved. We are all in this together, and this initiative hopes to play its part in getting vital supplies to those most in need."
And David Weatherhead, Design Principal at HOK's London Studio, added: "We have seen some fantastic examples of companies and individuals producing PPE through 3D printing; through this initiative we can ensure the face masks produced are to the NHS specifications and are delivered to hospitals as quickly as possible. We hope architecture and design practices, and anyone with a 3D printer, can support using the resources we have created."
As part of the collaboration The Industry Prints is working with the Contractors Appeal and NEAD, National 3D Printing Society, MedSupplyDriveUK, Makerversity, Helpful Engineering, Women in 3D Printing, developer Greystar's 'Do Some Good' campaign and the RIBA to get as many UK firms as possible involved.