The four-year deal covers jobs worth £250,000 to £100m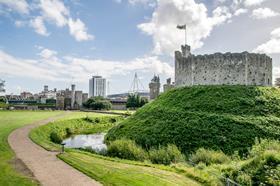 A group of Welsh local authorities led by Cardiff council has begun the search for contractors for a £1bn framework.
The four-year South East and Mid Wales Collaborative Construction Framework will cover construction activities in relation to schools and public buildings.
It is the third iteration of the framework, with the previous version led by Rhondda Cynon Taf County Borough Council.
Up to 10 firms are expected to be invited to bid for each of the 11 lots, with contractors having until 1 October to register their interest in the deal.
Lots one to four are geographic lots covering jobs worth between £250,000 and £1.5m, while lot five covers jobs worth £1.5m to £5m in mid Wales.
Lot six covers the entire region and caters for jobs worth between £1.5m and £3m, lot seven is for £3m to £5m jobs and lot eight is for jobs with a value between £5m and £10m.
The ninth lot covers jobs worth £10m to £25m and lot 10 is for jobs valued between £25m and £100m, while lot 11 is for demountable or temporary buildings worth up to £10m.
The shortlisted candidates are expected to be invited to tender by 5 November.
According to the contract notice, which was published to the Official Journal of the European Union today, modular solutions could potentially be used across all 11 lots.
The framework will be able to be used by 13 local authorities, both the Welsh and central government, schools, various religious groups and other public sector bodies.