Colour chosen to help with getting around the site
Quintain has begun work on a £41m coach and car park for Wembley stadium – that will be painted pink.
The complex will be built in the shadow of the national stadium and will have space for 290 coaches and 734 cars.
The developer is required to provide a new car park for the stadium because it is planning to develop the current areas where vehicles park under its huge Wembley Park mixed-use development which runs across 85 acres and includes 7,000 homes along with the completed London Designer Outlet shopping centre.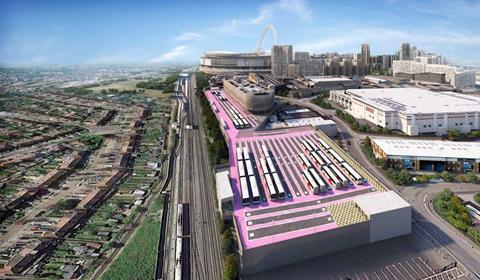 Quintain's executive director for construction, Matt Voyce, told Building the park is being painted pink so it is easier to find.
He added: "Different parts of the [Wembley Park] development are being attributed different colours – it makes navigating easier to understand and it means we don't have to come up with loads of new names."
The site has areas painted yellow, red and gold but Voyce admitted: "I don't know why the car park is pink."
The site will feature off-site manufacture of pre-cast concrete but will still have 150 people working on it at peak.
Designed by west London architect Potter Church and Holmes, the five-storey car park will have a separate entrance for coaches with vehicles stacked in queues and positioned according to their length, height and weight.
Specialist German contractor Huber Car Park Systems is working alongside London civils firm O'Keefe. They are due to complete the work in January 2020 with others working on the job including structural engineer Cre8 Structures, transport consultant WSP and QS Henry Riley.