Interview: Morgan Sindall's managing director Graham Shennan explains the thinking behind the contractor's office closures and management changes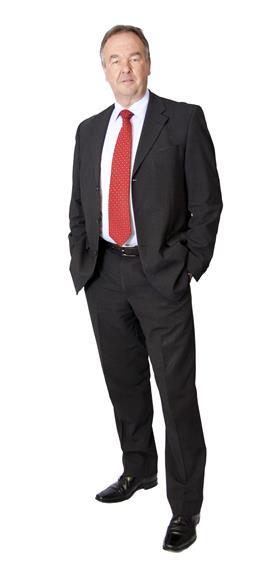 Morgan Sindall will continue to review its operations as its reshapes its business in response to a deteriorating market in the UK, as it aims to take out cost and target growth markets.
Speaking to Building magazine this week, Morgan Sindall managing director Graham Shennan said the firm's recent office closures was part of a deliberate strategy to move away from a "relatively inflexible locally-based structure" in order to "stay light on your feet" and react to the changing market.
Last week John Morgan, the executive chairman and founder of the business, took control of the £2.2bn turnover Morgan Sindall Group again as chief executive, after the resignation of Paul Smith. The move came as part of a wider trading update, which saw the contractor warn that its performance would be "slightly below previous expectations" and confirm a clutch of office closures as part of a bid to reshape its business.
Shennan said Morgan's return to the role of chief executive was "positive" and it was largely "business as usual" for the £1.2bn turnover construction business, as Morgan had always maintained an active role as executive chairman.
He said: "For me it signals an important change. There is a recognition that the UK market is quite tough. John's built this business and it's John sort of saying that the time is now right to steer things through a bit of a choppy time."
Morgan Sindall's annual report showed that Smith's total remuneration in 2011 was £1,025,000 and Shennan conceded the move was also partly driven by a desire to make the management tier more efficient.
"When times are tough you have got to make sure you get added value and be as efficient as you can be and that applies at the executive level too. You have to start at the top," he said.
Last week Building revealed that Morgan Sindall and Amec could be forced to bear a combined total of at least £50m in costs due to ongoing delays to a high-profile £134m nuclear submarine jetty project in Scotland, which is four years overdue and still unfinished.
Shennan would not comment on the project, which is being delivered by the infrastructure arm of the construction business in a joint venture with Amec, except to say it was "extremely complex". "But we can't say anymore than that right now," he said.
As exclusively revealed by Building this month, the contractor is set to close four regional offices in the south of England in Theale, near Reading, Bristol, Ashford and Banbury - with about 60 jobs at risk while last month it said it would be closing its office in Durham.
Those office closures followed an earlier announcement that the firm had restructured its regional management team, with the company reshaped with four rather than six geographic regions.
Shennan said the move would see the main offices in the four regions become bigger, with fewer smaller offices as the contractor shifted to a "regional hub model" servicing smaller project-focused special works offices.
He said: "It's not a fundamental change - it's more reacting to the market rather than just saying: 'Well the market is tighter so we're just going to have to cut our margins and do the same amount work.'
"I think that's a bit daft really. We've got the ability to flex and perform in different areas which are growing. It's a deliberate but quite subtle reshaping. We've just got to keep light in our feet."
He said the market in the North of England and the South-west in particular had been "really tough" and that the office closures, such as in Durham, were a response to that. "We had a nice little business in Durham but the local economy had become really tough," he said.
"Now just because we've closed the office there, doesn't mean to say we're not going to work in Durham anymore.
"But you have to be careful that you don't just preserve a permanent place in Durham, and buy work at any cost, just to stay there. That's madness. Because if you can't make a profit in a place, if you can't make money, what's the point in having a business there? So we will retrench a little bit, and may be in the future we will reopen.
"Our shop window - our product - is our sites and anything that's a framework that can service them can be as flexible as it needs to be."
He added that the contractor would continue to review its operations and make further office closures - or open new offices - when needed. "Have we got anything else planned? Not specifically. Will there be some other changes in the future? Yes most probably. Exactly what? I don't know yet," he said.
"This is what Morgan Sindall does - we just want to be as flexible as we can for our customers."
He said this approach had given the business an advantage in winning work, citing the example of Sellafield's £1.1bn Infrastructure Strategic Alliance (ISA) contract Morgan Sindall won in partnership with Arup.
He said: "One of the reasons Sellafield chose us is that we were seen as an empowered structure that could react quickly to client needs.
"So when we targeted Sellafield, we decided we'd open an office up there and went and did it - and that showed a commitment that we were serious.
"But we won Sellafield because we were the most convincing that we could bring different thinking to the challenges of the contract. The fact that we're showing investment, commitment, flexibility, and capability was part of that but it wasn't the main reason."
He said the ISA contract offered some "real contract challenges" with the winning bidder asked to deliver cost savings of 25% over the first five years of the contract, with "equivalent savings" over the full contract period. He said Morgan Sindall would aim to deliver on these through through innovations, such as off-site manufacturing.
He said one example of a future change could be adding a new rail stream within the construction business, if that part of the business continued to grow. Rail currently comes under the infrastructure stream, headed up by Jag Paddam, but Shennan said at some point they may need a dedicated rail division.
Despite the firms' update to the City this month, which fell just short of a profit warning, Shennan said the business was well placed going into 2013. "I don't think 2013 is going to be bed of roses but we are in a better position for 2013 than we were this time 12 months ago for 2012," he said.
Shennan said the firm would continue to target its growth areas in infrastructure, including energy, rail, roads, and aviation, as well as building work in London. "We've actually evolved the business and moved into some strategically important sectors in recent years, like rail and aviation," he said.
"Some of the sectors we're in, some people would give their eye teeth to be in those because you can't just say: 'Oh we'll go and work in the aviation sector.' Because you need the background, you need the skills set, you need the securities clearance."
"Don't get me wrong, 2013 is not going to be easy - the pricing levels are still extremely competitive and disappointingly, but understandably, a lot of significant customers, including government, are actually buying lowest price because they're under their own pressures - so you've got to be there or thereabouts.
"But in terms of our stats and our order book we're in a better place now than we were a year ago for the year ahead."