Rob Lambe says less regulation would see policy inconsistences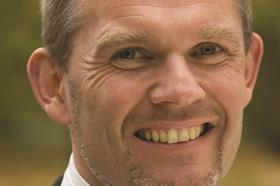 A Willmott Dixon managing director and treasurer of the influential sustainable business body Aldersgate Group has warned a Brexit would damage sustainability policy and slash investment in greening the UK.
Speaking alongside senior academics at a panel discussion on the EU referendum, Willmott Dixon Energy Services managing director Rob Lambe (pictured) – who is also a director and treasurer of the Aldersgate Group – said a Brexit would create inconsistent policy and turn off investors.
He said: "If industry is to take the lead [on sustainability], we need substantial investment and for that to happen there needs to be a long-term policy framework. There can't be surprises, such as the recent zero carbon homes policy.
"Take EU regulation away, devolved authorities will create their own policies and there would be inconsistencies. That's not good for business."
Lambe said that several companies are currently investing in the renewable energy industry in the UK and revealed: "I was in a meeting with somebody this morning who was saying in the event of a Brexit their investment would likely be withdrawn."
He added: "[The EU] provides certainty in terms of a policy framework which isn't there otherwise."
Academics speaking at the event praised the EU has being "positive for the UK environment" but Dr Robert Cohen, technical director at sustainability consultant Verco, criticised the EU's main energy efficiency policy – the Energy Performance of Buildings Directive (EPBD) – as being ineffective and "dishonest", though he said there's "no evidence" a Brexit would help.
EPBD requires all new buildings in the EU to be "nearly zero energy buildings" by 2021.
Speaking to Building last month, energy minister Andrea Leadsom defended the government's decision to scrap zero carbon homes, citing the EPBD targets as evidence of the Tories' commitment to sustainability.
Cohen said: "EPBD is focused on energy use of buildings, not activity. It also denies performance gaps. Its dishonest policy making in terms of climate change… EU policy making is constrained by a one-size-fits-all approach."
But he added: "Leaving [the EU] would create uncertainty and undermine investor confidence just when our energy system needs it.
"The UK is not good at energy efficiency but there's no evidence that leaving the EU would help."