Long-time capital works chief executive John Frankiewicz to return in non-executive role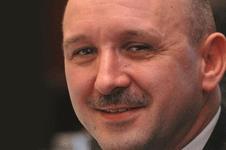 Willmott Dixon's long-time construction boss John Frankiewicz is to step down from the business at the end of the year, the contractor announced today.
Frankiewicz, who has been at Willmott Dixon for 30 years, latterly as chief executive of its capital works division, will leave the business before returning to the firm in a non-executive role in 2016.
The company said the move had been long planned, and had been contingent upon the appointment of a trio of chief operating officers for the three businesses that make up the capital works division: housing, interiors and construction.
The firm said the last of these roles had now been filled with John Waterman, currently regional construction managing at its Cobham office, having now been appointed chief operating officer of Willmott Dixon Construction.
With each of the three COOs reporting directly to group chief executive Rick Willmott, the firm said the appointment paved the way for Frankiewicz's departure.
Willmott Dixon's pre tax profit fell 19% in its most recent results to December 2013, due to a "small number" of underperforming projects, with revenue at the Capital Works division relatively stable at £899m.
However, an analysis by Building in June showed Willmott Dixon overall had grown revenue at the second fastest rate of any major contractor since the start of the recession in 2008.
Rick Willmott said: "I am pleased we have now concluded the assembly of COO positions to form our new generation of management structure. It enables John, after 30 years of distinguished service with us, to step down at the end of the year and pursue a number of activities outside our business before returning as a non-executive director in January 2016."
John Frankiewicz said he had had a "fantastic experience" over thirty years at Willmott Dixon and would now consider taking on roles both inside and outside the construction industry. "Construction has been a large part of my life and as such I expect to continue to play a wider role in the industry in due course. My early thoughts are to play a role in the industry that served me well but still needs radical change to achieve the performance required. It is my belief that the thinking and delivery has to be improved and this will be achieved with both innovation and collaboration."
Two years ago Charlie Scherer was appointed COO of Willmott Dixon Housing and Mike Hart COO of Willmott Dixon Interiors.