Firm will redevelop City of London office building as 13-storey complex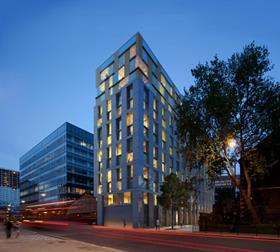 Willmott Dixon has been appointed to convert a central London office block into a new luxury hotel for operator Dorsett Hospitality International.

The project will see the existing Matrix Building, in Aldgate High Street, dismantled to the ground and a new 13-storey building constructed on its existing foundations.

The construction firm said it expected to commence work on the £14m Dorsett City project next month. It will be the second of the global chain's hotels in the capital.

Roger Forsdyke, managing director at Willmott Dixon's Cobham office, said the new hotel – set for a site between an 18th Century church and Aldgate tube station – was a "really interesting" scheme.

"It plays to our strengths and know-how of working on tight, constrained sites in urban locations, as well as our record for working in historic parts of London on landmark buildings," he said.

The new building was designed by McBains Cooper and won planning permission in 2013.

At the time, the firm said its proposals for redeveloping the Matrix Building were guided by the problem that removing its bell pile foundations was too complex a job because of their proximity to the London Underground network.

Instead, it suggested razing the Matrix Building to the ground, then consructing a raft on the existing foundations for a new building.

The hotel will be thinner than the office block it replaces, but three storeys higher.