Pay gaps of country's 40 biggest housebuilders and contractors published
Women at the country's biggest contractors and housebuilders are paid a quarter less than men, the latest gender pay gap data has revealed.
Data collated by Building found the median gender pay gap, which is the difference in average hourly pay between men and women, across the industry's biggest firms was 26.2% in 2020.
This means women at these firms were paid around 72p for every £1 earned by a man.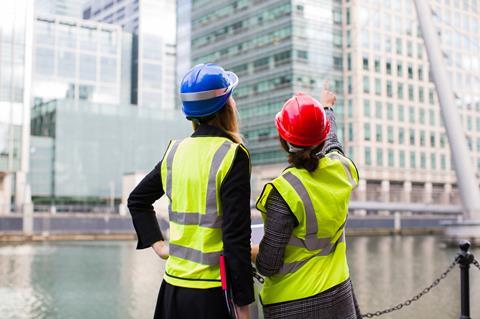 Since 2017, firms with more than 250 employees have been required by law to publish data showing annual gender pay gaps, as well as differences in bonus pay and the percentage of women employed.
These firms were given until 5 October this year to publish their reports – a six-month extension from the original 4 April date because of the pandemic.
The data records payment figures for 5 April last year, showing marked discrepancies between firms – despite the fact the median change across all the top 40 firms was around 1.2%.
The firm with the greatest median gender pay gap was Morrison Utility Services at 65.3%, a 59.1% increase on the year before the pandemic.
> Firms need to be wary of post-covid setbacks for women, minister warns
> Covid has set back women's progress by years, experts fear
Redrow posted the second largest year-on-year swing in its median pay gap.
The housebuilder posted a median pay gap of 49.7%, meaning women earn 50p for every £1 earned by a man which is up from a 2.7% gap the previous year.
A company spokesperson said the 2020 figures were an aberration from the trends it had reported each year from 2017.
She said: "At the time, 81% of our workforce was placed on furlough and therefore not included in the calculations for the hourly pay gender pay gap which has led to an anomalous result. We have also calculated the hourly pay gap gender pay gap including all employees and we are reassured this brings the mean and median hourly pay gap back in line with the 2019 levels.
"Until we returned from the first lockdown, all main board, executive board and divisional directors took a voluntary 20% pay cut. We repaid in full all government furlough funds."
Wates also posted a significant median gender pay gap at 32.9% but the change was less significant year-on-year at 9%.
A spokesperson said cost saving measures introduced in the early days of the lockdown announced on 23 March last year had been the most significant factor in widening its pay gap.
These measures, which including furloughing around 1,000 staff and imposing pay cuts for employees in non-operational roles, began on 2 April – three days before its gender pay gap data was scored.
The spokesperson said: "The unintended impact of these measures was a significant widening of our gender pay gap. Not only because those on furlough were not included in the calculation of our pay gap, following updated government guidance, but also because we were able to continue our operations throughout lockdown.
"As the vast majority of our operational workforce is male, they were not affected by furlough in the same way as our non-operational female and male employees, or by the temporary pay cuts applied to non-site-based employees."
Lockdown did not just have a negative impact, though, with Balfour Beatty, which paid women 82p for every £1 it paid men, also reporting an effect. The firm said: "As a result of operational restrictions, allowances paid to employees working on project sites were temporarily stopped during the period, reducing their earnings and bringing them closer to their base pay levels. Due to the gender profile of employees undertaking these roles, this affected more male employees than females."
Meanwhile, the firm to narrow its gap by the biggest proportion was Willmott Dixon, which saw the median pay gap shrink by 13.3% to sit at 28.7%. This means the firm now pays women 71p for every £1 earned by a man.
The deadline for the 2019/20 reporting period was 4 April 2020 and due to covid-19, enforcement of reporting deadlines did not apply to employers for that period meaning some firms did not report for those 12 months.
While some firms have reported for the 2021/22 financial year, which will have a snapshot date of 5 April 2021, they are not required to do so until next April. This means the 2020 data is the most recent complete set of data available.
Median pay gap at top 40 housebuilders and contractors
| Employer | Median pay gap % (on 5 April 2020) | Difference in median pay gap % since 2019 (positive shows gap has widened) | % women in top pay quartile | What women earned for every pound earned by a man |
| --- | --- | --- | --- | --- |
| Willmott Dixon | 28.77 | -13.33 | 36.40% | 71p for every £1 |
| J Murphy | 17.5 | -11.7 | 10.70% | 82p for every £1 |
| Balfour Beatty | 18 | -8 | 14% | 82p for every £1 |
| Mears | 21.97 | -6.11 | 15.57% | 78p for every £1 |
| Berkeley Group | 34.2 | -5.5 | 16% | 66p for every £1 |
| Cala Group | 23.1 | -4.6 | 18.20% | 77p for every £1 |
| Costain | 24.2 | -3.5 | 13% | 76p for every £1 |
| Skanska UK | 12.6 | -3.4 | 15.10% | 87p for every £1 |
| Barratt | 0.2 | -3 | 27.60% | £1 for every £1 |
| Homeserve | 32.1 | -2.1 | 22.30% | 68p for every £1 |
| Bellway | 18.6 | -1.7 | 21% | 81p for every £1 |
| Bam UK | 58.1 | -0.6 | 8.40% | 42p for every £1 |
| Lendlease | 22.8 | 0.4 | 25% | 77p for every £1 |
| Persimmon | 17.3 | 0.4 | 17% | 83p for every £1 |
| Galliford Try | 32.2 | 0.8 | 8% | 68p for every £1 |
| Crest Nicholson | 19 | 1 | 20% | 81p for every £1 |
| Mace | 38.6 | 1.1 | 8% | 61p for every £1 |
| Sir Robert McAlpine | 30.9 | 1.2 | 9.10% | 69p for every £1 |
| Places for People | 8.3 | 1.2 | 49.70% | 92p for every £1 |
| Keepmoat | 22.3 | 1.3 | 15.50% | 78p for every £1 |
| Tilbury Douglas | 31 | 1.5 | 6.80% | 69p for every £1 |
| Morgan Sindall Construction | 31.2 | 1.7 | 8% | 69p for every £1 |
| Mitie | 6.4 | 1.8 | 40% | 94p for every £1 |
| Volker Wessels UK | 26.4 | 2.6 | 10.90% | 74p for every £1 |
| Kier Group | 17.6 | 3.2 | 13% | 82p for every £1 |
| Vistry | 26.2 | 3.8 | 21.80% | 74p for every £1 |
| Vinci Construction UK | 48 | 5.1 | 8.20% | 52p for every £1 |
| Keller | 17.6 | 7.9 | 6.80% | 82p for every £1 |
| Wates | 32.9 | 9 | 8.10% | 67p for every £1 |
| Laing O'Rourke | 17.6 | 10.7 | 10.70% | 82p for every £1 |
| Taylor Wimpey | -18 | 14 | 32% | £1.18 for every £1 |
| McCarthy & Stone | 47 | 17.2 | 27.10% | 53p for every £1 |
| Redrow | 49.4 | 46.7 | 15.50% | 50p for every £1 |
| Morrison Utility Services | 65.3 | 51.9 | 0.4 | 35p for every £1 |
| Multiplex | 28 | n/a | 52.90% | 72p for every £1 |
| Bowmer & Kirkland | 47 | n/a | 4.20% | 53p for every £1 |
| ISG Construction | 27.7 | n/a | 3% | 72p for every £1 |
| Amey** | | | | |
| Top 40 median | 26.2 | 1.15 | 15.50% | 72p for every £1 |
**Amey had not published their latest reports at the time of writing