Woodfibre insulation systems from NBT have been used on 13 of the 52 homes built for Scotland's first ever Housing Expo, which showcased the latest concepts in energy efficient housing.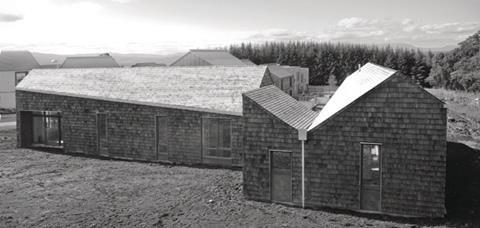 A variety of NBT's high performance, recyclable woodfibre systems were used. Oliver Chapman Architects designed the single-storey Skewed House pictured, which features an offset roof ridgeline that uses the firm's Isolair woodfibre boards to insulate the external walls. The firm's NBT Pavaflex woodfibre batts are being used as infill insulation between the studs. Pavatherm Profil is used to insulate the floor, and NBT Pavaflex batts are used between the rafters.
The hygroscopic properties of the woodfibre material makes it fully breathable, meaning its use reduces the risk of interstitial condensation, resultant mould formation and the associated health risks to occupants and structural risks to the frame.
Both the roof and the exterior walls of the Skewed House are over-clad in cedar shingles. In addition, an air source heat pump is installed, which provides the hot water and also serves the underfloor heating system for the property.