Scottish transport secretary says he has been forced to warn Balfour Beatty and Galliford Try not to 'cut corners'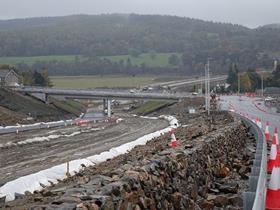 Construction work on the final stage of the Aberdeen bypass has finished but contractors Balfour Beatty and Galliford Try have been told not to cut corners on safety checks by the Scottish transport secretary as their end-of-the-month deadline to complete the road looms.
The pair, through the Aberdeen Roads joint venture, are now scrambling to sign-off remedial work to a 350m bridge over the River Don.
Michael Matheson, Scottish transport secretary, confirmed: "We continue to await Aberdeen Roads management providing the necessary technical assurances required to allow the road to open."
But he added: "We have been forced to caution Aberdeen Roads against attempting to use the North East's enthusiasm for the road to apply pressure and cut corners on important contractual issues that simply cannot be avoided."
A spokesperson for client Transport Scotland has previously emphasised the body would thoroughly survey the quality of the Don crossing and warned Aberdeen Roads not to "pursue misguided commercial tactics" as part of a claim against the client.
Matheson added: "Taxpayers have the right to expect high standards of quality when they pay for new infrastructure from reputable international construction firms and, also, to not be penalised for mistakes of these contractors' own making."
Balfour Beatty and Galliford Try are hoping to recoup some of the millions they have lost on the scheme, saying a number of factors which caused the delays, including site being hit by floods and having to carry out more than 300 utility diversions, were out of their hands.
Balfour Beatty and Galliford Try declined to comment.