Schemes in London and Birmingham languish after contractor's failure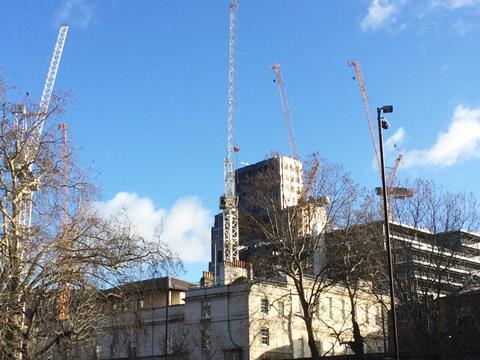 Carillion's work on at least two high-profile sites in London and Birmingham has stopped for a second day as the fallout from its collapse rumbles on.
The firm was working as main contractor on developer Helical's residential-led mixed-use scheme, Barts Square, near Smithfield Market in central London (pictured left) and on Birmingham city council's £700m joint venture scheme Paradise.
A source at the London site told Building: "Carillion have a skeleton crew here but they've all been told there's no work for them.
"They are allowing the subcontractors and workers on site to get their tools but that's it."
Another added that some Carillion managers were on site but no work was being carried out by the contractor.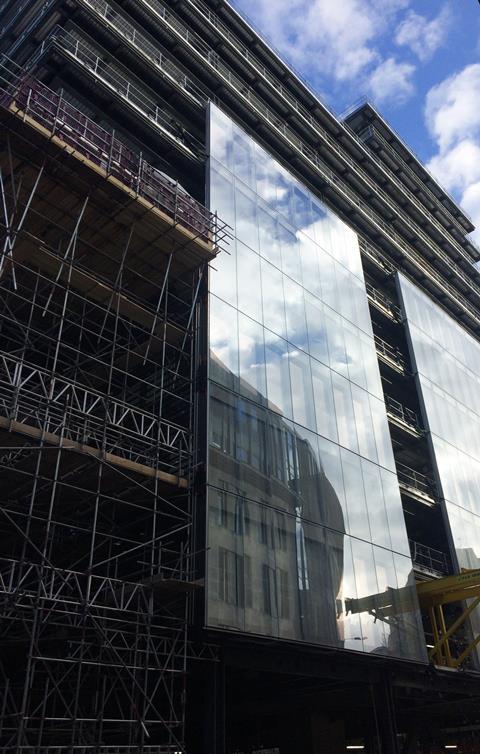 Carillion was in the process of delivering phases one and two at Barts Square, which includes 144 flats as well as 20,000m2 office building, One Bath Bartholomew Close (pictured right). According to data provider Barbour ABI, this was due to complete later this year.
Keltbray is still on site at the scheme, working on the third phase of the 3.2 acre development having demolished the existing buildings and carried out some enabling works.
Sources said Keltbray would now take on more work at phase three, such as the residential building's frame, which it could deliver via its concrete business that was launched in 2016 after acquiring some parts of insolvent Dunne Group.
In Birmingham at Paradise (pictured below) Carillion was building One Chamberlain Square and delivering other site-wide works on a £250m contract.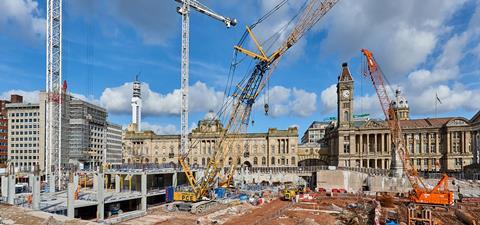 Designed by Eric Parry, the 172,000ft2 building was expected to complete in autumn this year.
Rob Groves, regional director at Argent which is the development manager for the scheme, said: "Work is momentarily paused while we finalise the next steps with contractors and sub-contractors to complete the site wide works and One Chamberlain Square.
"To maintain the integrity of the site and to meet health and safety obligations, we will restrict access to the site until all the proper procedures are in place. We anticipate that work on some parts of the site will start within a week."