Visitors descend inside peak to galleries and viewing platform
Zaha Hadid Architects has completed a climbing museum built 2,275m up in the peak of a mountain in Italy.
The 1,000sq m Messner Mountain Museum Corones is the sixth in a series of visitor attractions created by the Italian climber Reinhold Messner who was the first to scale Everest without oxygen tanks.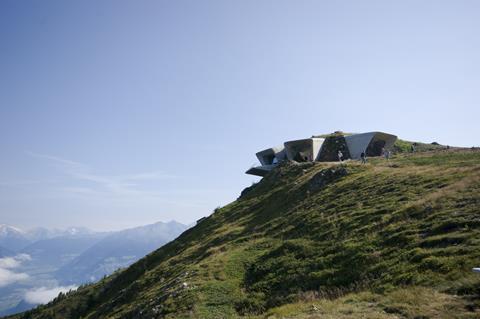 Nestled precariously at the top of popular South Tyrol ski mountain Kronplatz, the museum is partly buried to keep temperatures constant year-round. This required the removal of 4,000cu m of earth.
Visitors enter through the top and descend down a series of stairs through three exhibition levels where they arrive at a central display space.
Windows and a 40sq m terrace on the lowest floor give visitors 240° view over the Zillertal Alps, the Ortles-Ortler and the Dolomites.
Zaha Hadid said: "The idea is that visitors can descend within the mountain to explore its caverns and grottos, before emerging through the mountain wall on the other side, out onto the terrace overhanging the valley far below with spectacular, panoramic views."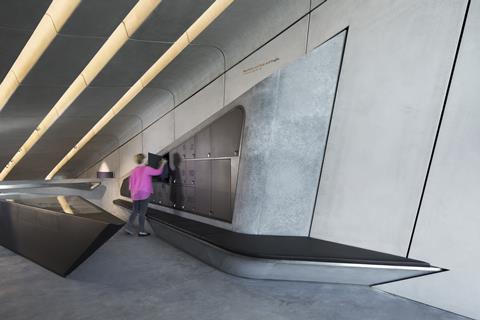 How they did it
Constructed from in-situ reinforced concrete, the museum's structure has walls between 40-50cm, while its roof, supporting the replaced earth and rocks that embeds the museum into the mountain, is up to 70cm thick.
The majority of the museum's exterior and interior panels are also made from in-situ concrete, with a formwork of tapered surfaces used to generate the peaks and abutments of the exterior concrete panels, expressing the rock and ice formations of the surrounding mountain landscape.
Almost 400 internal and external panels were prefabricated, with the more complex curved elements created by spraying layers of high-performance fibre-concrete into moulds carved from CNC-milled foam using the architect's 3D model.
A scaffold of steel sections with adjustable brackets to offset tolerances forms the museum's substructure. Counter-plates for the connecting brackets are laminated directly within each panel during the prefabrication process.
Exterior panels are lighter, reflecting the limestone of the Dolomites, and then fold inside where darker hues invoke the anthracite found inside the mountain range.
ZHA
Source
This story first appeared on Building Design