Architect of the Aquatics Centre complains she has not been invited to the Olympics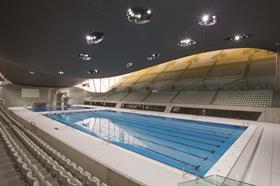 Aquatics Centre architect Zaha Hadid has hit out at "rude" 2012 Olympics bosses for not inviting her to a single event.
Hadid claimed she has not been asked to the opening or closing ceremonies of the Games, or to any swimming or diving events at her landmark building in the Olympic Park.
The sweeping Aquatics Centre, built by Balfour Beatty, took eight years to construct and boasts two 50m racing pools, a diving pool and seating for 17,500.
In an interview in today's Evening Standard Magazine, the Clerkenwell-based architect said of the failure to invite her: "I think [it] is just rude. When you've designed a building like this you want to see how it's used."
However, Hadid added that she still "can't wait" for the Games to start: "Everybody is complaining but I think it's going to be exciting."
The London Organising Committee of the Olympic Games said: "The best way for anybody to get tickets is through the public application process."