Smaller UK firm also on shortlist dominated by string of Russian names
Zaha Hadid Architects is one of two UK practices that have been shortlisted in a competition to design two stations for the Moscow metro system.
The other is Anglo-Georgian Architects of Invention which has around 15 staff in London and Tbilisi. It is led by Tbilisi-born Nikoloz Japaridze who has worked in Moscow as well as for OMA, KPF and EPR.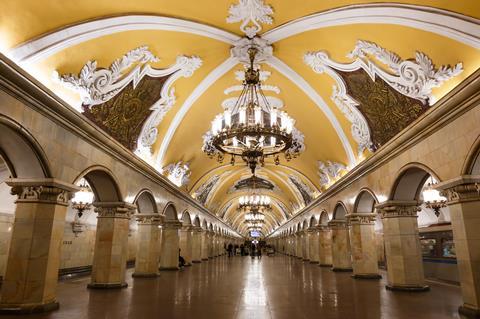 Two shortlists of five teams have been announced for the two stations. Most of the other finalists are Russian.
They were chosen by the jury chaired by Moscow's deputy mayor for urban planning policy and construction, Andrei Bochkarev.
The competition is for stations on two new branches of the Moscow Metro: Prospekt Marshala Zhukova on the Rublyovo-Arkhangelskaya line; and a station with the working name Klenoviy Bulvar 2 on the Biryulevskaya Line.
The competition saw 78 bids from 330 competitors submitted from 12 countries including the UK, Hungary, Germany, Spain, Italy, China, Latvia, the Netherlands, Poland, Uzbekistan and Japan.
Winners will be announced on 20 August.
The two shortlists
Klenoviy Bulvar 2:
• Architectural Bureau KPLN LLC (Moscow, Russia);
• Consortium led by Zaha Hadid Architects Ltd (London, UK), Consortium Members: A-project, Krost (Moscow, Russia); Arup Lighting (London, UK); Systematica s.l.r (Milan, Italy);
• ABTB LLC (Moscow, Russia);
• Blank Architects CJSC (Moscow, Russia);
• Consortium led by Buro Vozduh (Moscow, Russia), Consortium Members: WP I ARC Plan GmbH (Hannover, Germany).
Prospekt Marshala Zhukova:
• ABTB LLC (Moscow, Russia);
• Blank Architects CJSC (Moscow, Russia);
• ASADOV ARCHITECTURAL STUDIO LLC (Moscow, Russia);
• Consortium led by NOWADAYS LLC (Moscow, Russia), Consortium Members: Architects of Invention (London, UK);
• MAParchitects LLC (Moscow, Russia)