Qatar project will hit 38 storeys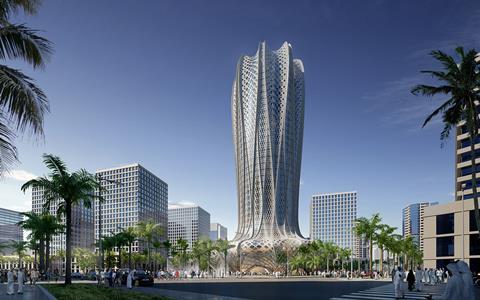 Zaha Hadid Architects has been commissioned to develop the first of two projects at Lusail in Qatar, a 70,000sq m hotel plus flats.
The practice has released an image of the project, a 38-storey tower which is due to complete in 2020.
A filigreed mashrabiya façade envelops the building to reduce solar gain, said the architect, and the nine-pointed podium was inspired by a desert hyacinth, a flower native to the region.
ZHA was commissioned by Al Alfia Holding in 2013 to design two projects for the Lusail City masterplan. The second "will be built within the on-going plan for future development of the city", said the architect.
The design is jointly credited to Zaha Hadid and Patrik Schumacher, while the project director is Charles Walker, with Tariq Khayyat as project associate and Kutbuddin Nadiadi as project architect.
Lusail is a new town on a 38sq km site in the Qatar desert which aspires to being the country's most sustainable city. It will eventually have 200,000 residents.
It is also the site of one of the stadia for the football World Cup, designed by Foster & Partners. ZHA is designing the Al Wakrah stadium.