Oxford university's Bodleian Library undergoes refurbishment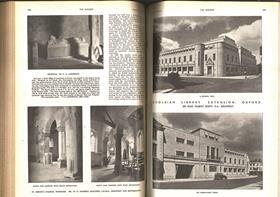 In April, Building visited the refurbished Bodleian Library in Oxford, writes Hollie Tye. Home to the UK's second-largest collection, the University of Oxford's library - founded in 1602 -required extra space for its 11 million books and manuscripts, which architect Wilkinson Eyre provided with the revamped Weston Library. The Bodleian underwent a similar refurbishment 75 years ago. While the library's collection then stood at a meagre 5 million books, architect Sir Giles Gilbert Scott designed an extension that had to navigate the new building's restricted height. On 23 August 1940, The Builder reported:
"The solution of the problem has been a large central bookstack, artificially lighted, with staff rooms, research and reading rooms arranged around it. As there was some doubt as to whether these rooms would always be required, they have been designed in such a way as to render possible their conversion into stacking space for books.
"The building is primarily a book store, the main reading rooms being situated in the old Bodleian. The books are conveyed between the new and old Bodleian buildings by means of a mechanical conveyor, which runs to the full height of the new building and through a tunnel under Broad-street to the old Bodleian."