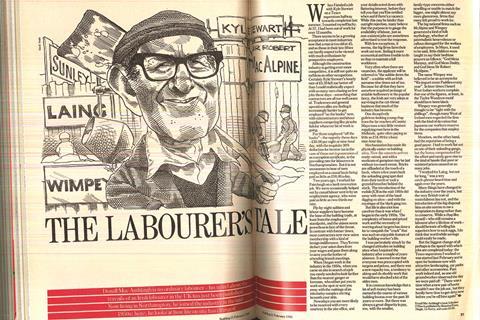 Author Donall Mac Amhlaigh was a labourer in the construction industry in the mid-1950s. Born in Ireland, Amhlaigh left school at a young age and joined the Irish Army. Once out, the prospect of unemployment in Ireland forced him to travel to England and seek work as an unskilled labourer. His book on the subject, Diary of an Exile, became a bestseller.
This week in 1986, Amhlaigh, who was then living in Northampton, wrote for Building describing how life on site had changed over the years.
He wrote: "When I landed a job with Kyle Stewart on a Tesco superstore halfway towards completion last summer, I counted myself lucky. At 57, I had been out of work for over 12 months.
"There seems to be a growing acceptance in most industries now that a man is too old at 45, and so those in their late fifties can hardly expect to be viewed with much enthusiasm by prospective employers.
"Although the construction industry is getting ever more competitive, it is still not quite so ruthless as other occupations. Certainly Kyle Stewart's hourly rate of £3.50 left me better off than I could realistically expect with so many men chasing so few jobs these days - something that contractors are all too well aware of".