Thirty years ago, Building was looking at the potential for former psychiatric hospitals to be converted into residential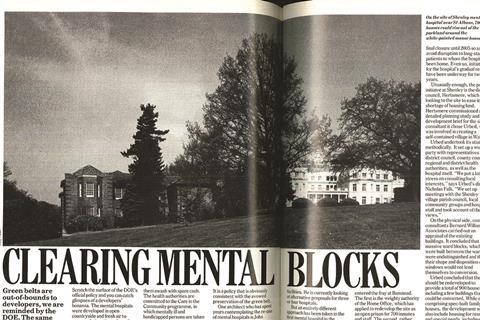 Clearing mental blocks
Thirty years ago, Building was looking at the residential potential of an unusual source of housing.
More than 100 psychiatric hospitals around the UK were set for closure and developers were edging to get in on the action. There were 12 sites around London, reported Martin Spring, each of which could have been worth as much as £100m and could have created 900 housing units. But in the 1980s, not everybody was keen on the thought of living in such places. John Burrell of Burrell Foley architects argued that: "If only their depressing institutional stigma could be shed, mental hospitals would be seen in a new light as attractive, close-knitcomplexes of building enclosing squares and swathed in mature landscape."
These days, with the demand for housing in the Home Counties so intense that even industrial sites are being considered, Building suspects fewer people would complain about living in a leafy suburban development, however grimly institutional the previous use. But, these days, fewer people could afford the prices.
To read the full article from 1 May 1987, download the PDF below