Five of the industry's best-known names try their hand at making a Christmas number one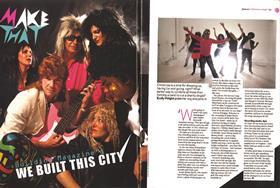 We built this city
How hard can it be to record a Christmas Number One? That was the question put to five of the industry's best-known names for Building's Christmas challenge in 2010. Combining to form Make That, the five members each grabbed an eighties wig and outfit, and spent a day recording a cover of Starship's We Built This City - with all proceeds from sales of the single going to charity. But as the reality of the task set in for the group, there were some early reservations.
As Emily Wright reported: "'We're going to need a lot more champagne,' says Capita Symonds' Jonathan Goring. 'This has all got a bit nerve-racking and I am still way too sober. In fact, where are the drugs? We may need some.'
"It's 2pm on a Monday in a tiny recording studio in west London, and five of the industry's best-known names have just listened to the song they're about to cover for charity.
"As the last lines of Starship's eighties classic, We Built This City, fade out Jonathan is the only one who managed to form a coherent sentence so far - albeit one demanding drugs (which we're pretty sure was a joke). The other four are sitting in horrified silence, hands over mouths and wide eyed."