Concerns over big European firms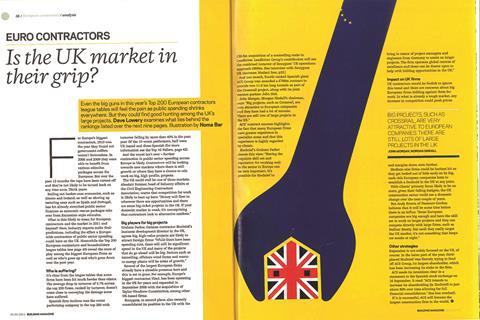 The debate on whether Britain should leave the EU, and what the consequences for construction would be, has been a hot topic this week. As the pressure mounts over the referendum, which is likely to occur in the summer, we take a look back to 2011 when the country's relationship with Europe was another sticking point. As public spending cuts across the continent continued, fears were growing that European contractors would muscle in on the UK, where big projects were still available.
Dave Lowery reported: "UK contractors would be foolish to ignore this trend and there are concerns about big European firms bidding against them for work. In what is already a tough market, any increase in competition could push prices and margins down even further.
"Medium-sized firms could be hardest hit as they get locked out of bids early on by big, cash-rich European companies keen to establish a foothold in the UK at any price.
"With clients' primary focus likely to be on costs, given their falling budgets, the UK construction sector could see a dramatic change over the next couple of years."