2020 had its fair share of controversial projects but it also offered up not one but two Maggie's centres, an award-winning hub for automotive research, a floating church and yes, hospitals built at breakneck speed. We look back at some of the achievements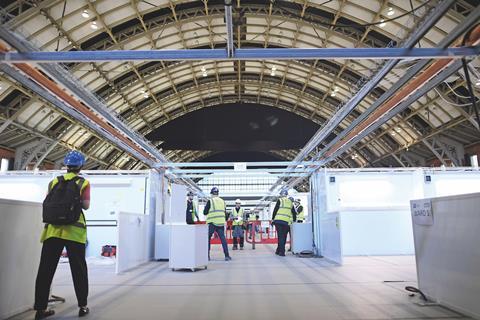 In late January, at a point when most of us were still struggling to spell coronavirus let alone imagine it would reach the UK, you probably read a headline on Building's website that made your jaw drop.
"China building hospital in six days for coronavirus patients," it said, accompanied by a picture showing 35 diggers on a vast, empty site.
The hangar-like buildings erected in Wuhan could care for 1,000 highly infectious patients suffering from this strange new disease. To all but a few specialists, the speed seemed extraordinary, the kind of thing that can only happen in China.
Yet just two months later Britain was frantically starting work on similar facilities to cope with a feared tidal wave of patients as the pandemic began to wreak havoc across the world.
The main difference was that the UK's surge hospitals were created in existing buildings repurposed at breakneck speed.
The construction teams told Building of the exhilaration of working against the clock and without the usual protocols that can drag out a hospital project to many years not days.
"Everyone just rolled up their sleeves and started on it," recalled James Hepburn, an engineer and principal at BDP who worked on the first NHS Nightingale at London's ExCeL.
"We were just a group of willing people who'd turned up to work out how to deliver this brief of creating 4,000 bed spaces. It was slightly surreal."
The idea for using conference centres came to Hepburn when he and his friend Matthew Shaw, chief executive of Great Ormond Street Hospital, chatted over a beer on Skype in mid-March and the conversation turned to the news from Italy.
He and some colleagues started brainstorming and produced a short concept paper and Revit model. It was becoming clear that thousands of beds might be needed so he downloaded the floor plans for the ExCeL. They calculated it could cope with 4,000 ICU beds.
It was just so quick. By the middle of the week you could see what everyone had been working towards taking shape. It was hugely rewarding and a big relief

James Hepburn, BDP
"I remember Matt's partner [an anaesthetist, just like Hepburn's] being very grumpy and saying it was miles away and you'd struggle to get staff there. But it's the only one that's big enough," said Hepburn.
A few days later three architects and three engineers from BDP found themselves at the ExCeL with others from the Richard Stephens Partnership, main contractor CFES and the army, all fresh from helping the Royal Free Hospital set up a covid isolation ward.
Just 24 hours after arriving on site with 20 people, the floor was being laid and bed bays were marching across the enormous, 500m x 86m halls. "It was just so quick," said Hepburn. "By the middle of the week you could see what everyone had been working towards taking shape. It was hugely rewarding and a big relief. I've been an engineer for 20 years and normally find it hugely frustrating that it takes so long to do things."
The number of people on site seemed to double every day, with 500 at the peak. The days were long and intense, but the sense of everyone pulling in the same direction was palpable.
Ten days after they started, the hospital received its first patients – and Hepburn was in bed at home with covid.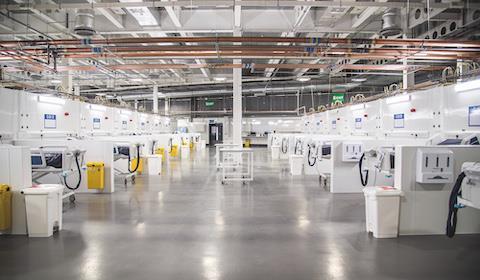 Meanwhile in Scotland, a similar drama was unfolding as Glasgow's Scottish Event Campus (SEC) was converted into the NHS Louisa Jordan, by a team including Balfour Beatty and Aecom.
Colin Carrie, a director of Keppie Design, had phoned NHS Scotland to offer the firm's help. Fortuitously Keppie was also working on a project for the SEC so Carrie and fellow director David Ross were able to hit the ground running.
"We had all the live drawings and knew the halls pretty well," Ross told Building in an interview two days after it opened. "That familiarity really benefited us that first day."
That was Friday 27 March. Over the weekend they did a feasibility study and on the Monday it was signed off by the Scottish government and a fire officer. "It felt like we didn't really go home from that point," said Keppie. "There were some pretty late nights and there were some early rises, particularly in the first week when all the pressure was on the architectural team to get the drawings out that the MEP [mechanical, electrical and plumbing] consultants could lay their work on and contractors could start buying from."
He describes those first few days as intoxicating but intense, sending photos of sketches to colleagues who issued them as CAD drawings from home the same night.
"It was that immediate," said Ross. "Some of the drawings were issued at 2am. But we knew we were doing something really worthwhile."
After that, exhibition centres across the nations were repurposed by teams or contractors and consultants including BDP, Stride Treglown, Todd Architects, the IHP joint venture between Vinci and Sir Robert McAlpine, Mott MacDonald, Mace and M&E contractor NG Bailey.
Maggie's centres
Some might say Maggie's cancer centres, with their warm domestic feel and high-spec details, are at the opposite end of the healthcare spectrum from the rapidly built, utilitarian Nightingales.
That's not to say blood, sweat and a fair bit of cash haven't been poured into both, but while the surge hospitals were designed as sheds for intubated patients (as engineer James Hepburn of BDP put it in his interview with Building), Maggie's are all about the user experience.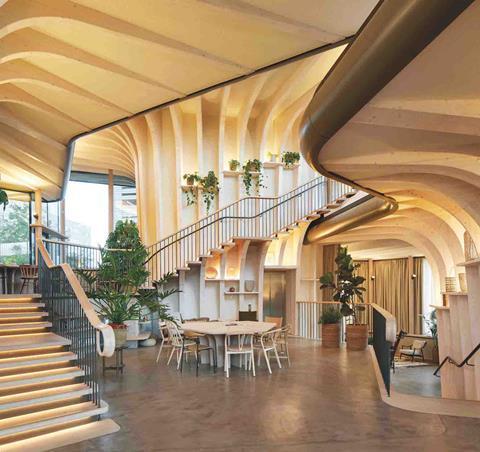 Maggie's cancer care centres were dreamt up in the early 1990s by gardener Maggie Keswick Jencks and her husband – the writer and landscape architect Charles Jencks, who died this year – after she was given a terminal diagnosis and then shunted into a windowless corridor to deal with the news.
There are now more than two dozen spanning the UK and beyond, each unique. This year saw two new centres open, in Surrey and Yorkshire, bringing the total to 26.
The 462m² Leeds Maggie's, built by Sir Robert McAlpine in the grounds of St James's University Hospital, is the first healthcare building by designer Thomas Heatherwick. With its organic curves, ribs and garden planters design – not to mention 17,000 plants – it is obviously a Heatherwick Studio project, with echoes of the ill-fated Garden Bridge.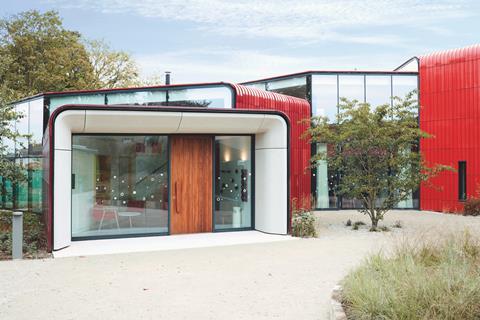 On a sloping site with views to the Yorkshire Dales, its tiered structure was built from a prefabricated and sustainably sourced spruce timber system. Each "planter" encloses a counselling room surrounding a central kitchen. The interior uses tactile materials and soft lighting to banish any sense of the clinical.
The other new Maggie's, at the Royal Marsden in Sutton, is similarly welcoming and light-filled. It was created by Ab Rogers Design, the studio founded by one of Richard Rogers' sons, and built by Sir Robert McAlpine Special Projects. Showing Building round in February, Rogers Jr shrugged off the idea that it had been intimidating taking on his father's Stirling Prize-winning Hammersmith Maggie's. "It was more the fear of designing a Maggie's knowing that Rem Koolhaas has done an amazing one and Frank Gehry has done an interesting one," he says.
"It's a little bit terrifying because you know who you are up against and that it will be noticed. There are a few Maggie's that are really underwhelming and you don't want yours to be another of those – especially as your first building."
Critics agreed he had delivered a gem, its rectangular volumes wrapped in handmade terracotta panels in varying shades of red and many of its details such as the lights made by Ab himself.
Award-winning buildings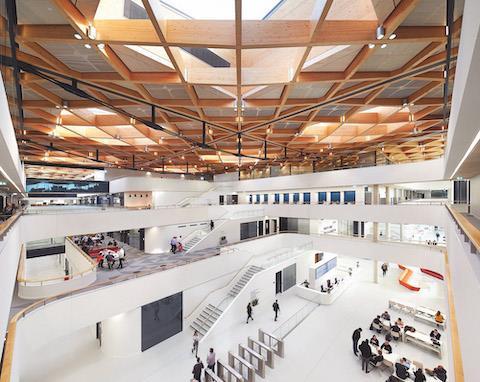 The pandemic has put paid to big award ceremonies, with the RIBA Stirling Prize being cancelled this year. Building and sister title Building Design were unfazed by the restrictions imposed by covid and hosted online versions of the Building Awards instead.
The quality of the entries was not at all diminished by the pandemic, with some very strong projects on the shortlists. Cullinan Studio's National Automotive Innovation Centre (NAIC) took Building's top projects prize, the Building Magazine Project of the Year. Completed in February by Balfour Beatty, NAIC is a partnership between Warwick University, Jaguar Land Rover and Tata Motors UK and is one of the largest research and development centres in Europe. It pulls together a multitude of uses including reception and exhibition space, research offices, design halls, an advanced propulsion laboratory, a garden and a collaborative hub. These disparate functions are unified by one of the largest timber roofs in the world. Our judges were inspired by the project, saying it looked like a great place to work, heroic yet flexible and people centred.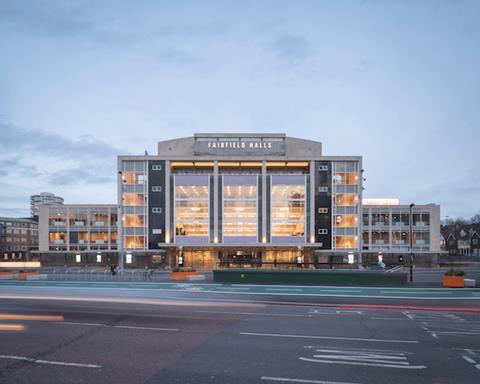 MICA, the firm previously known as Rick Mather Architects, is proof that architectural practices can prosper after the death of their founder. MICA won Building's refurbishment category and Building Design's Architect of the Year Refurbishment category and the Gold Award. Croydon's Fairfield Halls was entered for all three awards. Unloved for many years, Fairfield Halls is considered to be the sister building to the Royal Festival Hall, which features the same Scandinavian modernist style.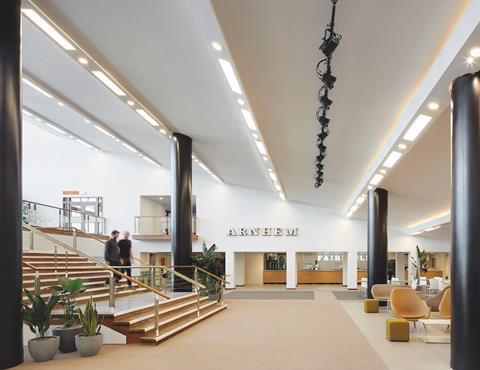 MICA has sympathetically refurbished and extended the building, including clearing out inappropriate changes to the foyer and reinstating the original design intent. It has rebuilt the Arnhem Gallery extension to double the space and provide new rehearsal and conference facilities and generally updated the building to take advantage of modern technology.
The finished project (Vinci was main contractor) looks fantastic and reinstates one of Croydon's best buildings from the 1960s redevelopment era, providing a multipurpose entertainment venue for the town's booming population.
Controversial projects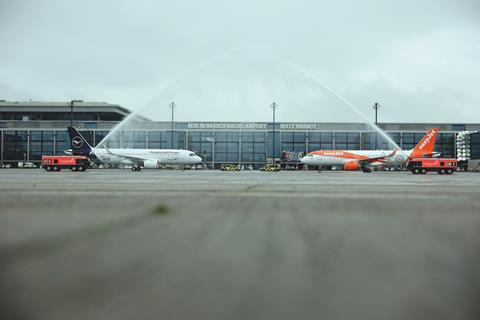 After a multitude of missed opening dates that make Crossrail look like an exemplar of construction efficiency, Berlin Brandenburg Airport has finally opened nine years late. The project has been bedevilled by almost every construction failure known to man, including multiple technical problems and costs quadrupling to €8bn. On top of this, an airport technical director was found guilty of fraud and corruption relating to the project; and the consortium PG BBI, which was responsible for planning and construction, was thrown off the job in 2012. Ironically its completion coincides with a massive, covid-induced slump in air travel.
Berlin Brandenburg Airport has finally opened nine years late. The project has been bedevilled by almost every construction failure known to man
The UK has its own homegrown disasters too – Crossrail is shaping up to be the new Brandenburg airport with a litany of failed opening dates, and Heathrow's third runway may never break ground because the Court of Appeal ruled it illegal as it would breach the UK's 2050 net zero carbon target. And there is a queue of projects shaping up to take over the controversy crown, provided they can be negotiated through the first hurdle, the planning system.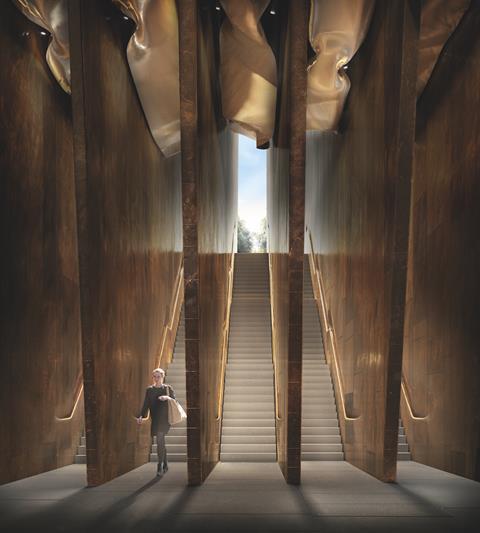 The Tulip, Foster + Partners' concrete-stemmed viewing tower next to the Gherkin in the City of London, is being scrutinised at a planning appeal that closes today (11 December). Approved by the City of London, it was turned down by the mayor on the grounds that it did not meet the standards of design required for the site and because it would harm views of the City from the Tower of London. The final decision will be made by communities secretary Robert Jenrick, probably in the new year.
A few miles down river, an earlier planning inquiry examined the arguments for and against a proposed holocaust memorial next to the Palace of Westminster after the initial application was turned down by Westminster's planning committee in February. The detractors argued it would be a security risk and a design disaster, with Lord Carlile QC saying it would be a "self-evident terrorism risk" and architecture critic Rowan Moore describing the design as a "cacophony". Architect David Adjaye defended the scheme by saying it deliberately creates a busy "crescendo of the moment" effect, and former prime minister David Cameron has backed the scheme. Housing minister Christopher Pincher will have the final say.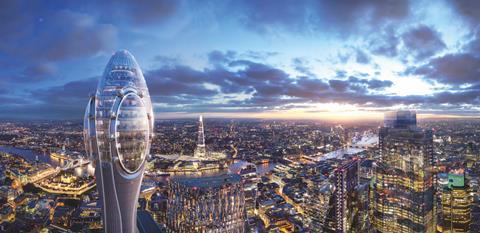 Civic buildings
This year saw the completion of three very different civic buildings. First up is RIBA Royal Gold Award winning practice Grafton's Town House at Kingston University. Principally a university library, the building also includes dance studios and rehearsal spaces. Crucially for a civic building, it is open to the public, who can use its cafes, roof terrace and courtyard. The building, constructed by Willmott Dixon, features an intriguing precast concrete colonnade that projects in front of the redbrick and precast concrete trimmed walls. This provides a buffer zone between the building and the road, with terraces straddling the gap. The colonnade gives the building a distinctive, imposing presence with the rectilinear theme of the columns carried inside for the internal structure and distinctive ribbed wall treatments to the covered courtyard.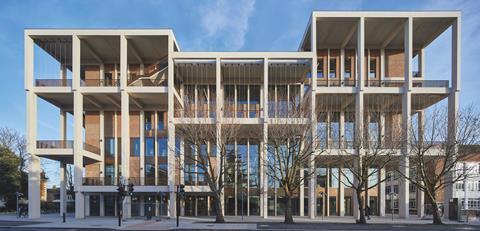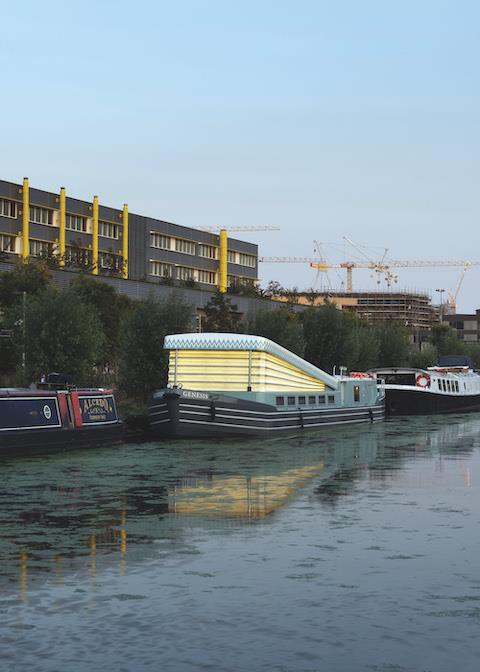 Over in Hackney is the UK's first example of a floating church, which has been designed by architect Denizen Works and built by Turks Shipyard. Christened Genesis, it is a purpose-built 8.5m-wide canal boat that hosts a church called St Columba East with a unique pop top type roof similar to those found on camper vans. The sides are made from a concertinaed sailcloth that functions in the same way as a pair of bellows. Raising the roof increases the height of the church to a suitably imposing 3.6m, with light percolating through the sailcloth at night so it acts as a beacon, drawing people towards the church. Moored by Here East at the Olympic park, the idea is that the boat can fit under low canal tunnels with the roof in the retracted position and bring a place for prayer to the new and growing communities around the Olympic park.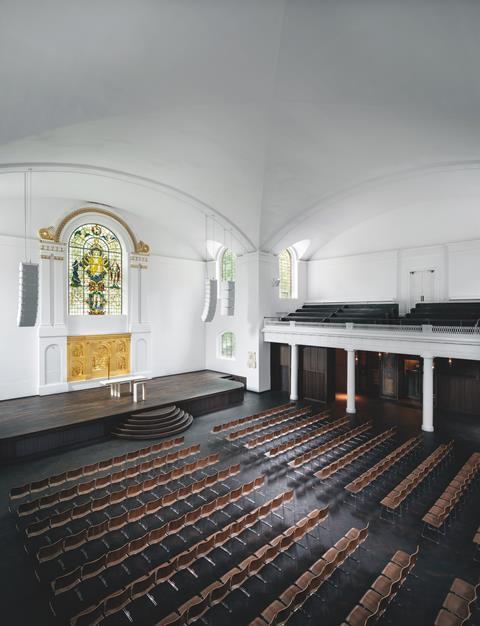 Continuing the religious theme and less than two miles away, the same borough hosts a very different church which has recently been refurbished by the master of minimalism, John Pawson, in collaboration with conservation architect Thomas Ford & Partners, and with Rooff as contractor. Past alterations and accretions have been stripped from the Georgian St John at Hackney Church with new interventions that include a raised sanctuary which also functions as a stage, two new chapels, serveries and storage. These interventions are executed in the same dark oak as the original features, with the wooden panelling lining the sides of the lower level featuring an attractive ribbed finish reminiscent of the pipes of an organ. This provides a bold contrast with the smooth white walls, columns and ceiling of the original building and clearly demarcates new from old. As you would expect from Pawson, the interventions are clean, crisp and well-proportioned and blend in well with the rather austere, ordered Georgian interior. With two new churches to choose from, Hackney churchgoers can go forth and rejoice!
Review of 2020: The covid year
1

2

Currently reading

Projects of 2020: Blood, sweat and tears

3

4

5

6