How are materials suppliers using data to drive transformation and provide better services for customers? Building, together with leading AI company Peak, asked some industry experts
Many believe there is a huge opportunity for building materials suppliers to leverage greater insight from their sales and other data to improve their business performance. Such information can help by creating efficiencies across both supply chain and operations, and by delivering a fully personalised customer experience. Get it right and customers' lives are made easier, their loyalty strengthened. Efficient use of data can also ensure products are always available and are being made and delivered at minimal cost, helping to grow revenue, increase margins and improve sustainability.
While some companies have placed data at the heart of their transformational strategies, it can be hard to know when to start the process. The technical landscape is complex, and accessing skills can be challenging. So too is recognising exactly which improvements will yield the best results in order to prioritise a strategic roadmap.
Building, together with AI company Peak, gathered a group of industry experts in a virtual setting to discuss why they believe data and artificial intelligence can be a catalyst to transform businesses.
Forward thinking
When it comes to the use of data and analysis, the construction industry supply chain is proving to be an exciting sector in which to work, according to Mark Perkins, commercial manager at Peak. The building materials area, not a part of the industry traditionally known for its use of AI – artificial intelligence – is fast recognising the value of new technologies in helping analyse and grow its activities.
Thanks in part to the scale of disruption taking place across the industry, Perkins believes there are "real opportunities waiting for forward-thinking companies to get on, get ahead, and win in the market", assuming that they harness data in the right way. He went on: "We're having some really interesting discussions with some people already around data and digital transformation. And certainly looking at where AI can be deployed to create and improve some operational performance in businesses."
How do we connect the digital experience, use that data to drive frequency and recency and spend outside of the building?

Andy McDonnell, Eurocell
While the message seems clear enough, Eurocell managing director Andy McDonnell wondered how traditional materials merchants connected the dots with the online experience to the point that they succeeded in translating the data they had accrued in order to effectively drive growth away from the bricks and mortar site.
"I'm particularly interested in that side of things, looking at how we use AI to drive customer growth," he said. Covid had driven more people towards online and digital opportunities, McDonnell added, "but how do we connect the digital experience, use that data to drive frequency and recency and spend outside of the building?"
Keeping it human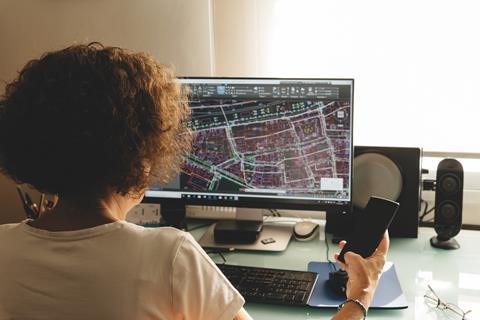 The mindset of many traditional building material suppliers is certainly changing, but some newer companies have had their eye on the digital prize for some time. Ben Hodson, marketing director at online retailer CMOStores.com, said when his firm was created just over 10 years ago it was with the idea of trying to bring the traditionally acknowledged customer service offering into the digital sphere. "Not taking away from the traditional merchants, but we are about offering a service that potentially couldn't be provided by them." What is perhaps odd for an online business, Hodson said, is the concept of delivering great service to the customer beyond just sending products to them. "We make sure that there is always a human in what we do. There is always someone at the end of the phone; there is always specialist product knowledge in place to help."
The founders of CMO had worked in the traditional specialist sectors for 10 years or more before creating the company, Hodson said. "They felt that not only was there was a better way to do it, but also to do it at scale. So they were prepared to invest in an area that they knew nothing about at the time," he added.
Naturally there will be different approaches to doing business, and Peak's Mark Perkins highlighted the differences in sales strategies among merchants when it comes to online trading. "They've all got their own starting points, they'll be in different places in terms of the progress they've made and what they might like to do in the future. Looking at it from a customer perspective, if you are used to your more traditional in-branch transactions, there'll be differences in terms of how you engage with customers.
"Take your store managers: they'll know customers on a one-to-one basis and can provide a great experience for them. You might capture some data around that sort of transactional history, you might have a bit of account information about them. But certainly combining in-store and online activity is a great step to take. That ability to see a customer wherever they are in their sales cycle and then being able to engage with them in the most effective manner possible."
The question is around how can firms like ours add more value in the supply chain? How can we be more engaged?

Alex Small, Tata Steel
That said, there can be issues around getting some companies to recognise the potential of online activity. Louise Foody, director of digital and brand at Kingspan Group, believes the organisation itself can be part of the problem. "Very traditional organisations have yet to realise the value that lies in this [online] area. There are technologies that can help, enormously help, that journey. Because if you just digitalise a process or something that already exists, yes, there is some value in that. But where is the new opportunity that you didn't have before? Is that around getting to the table somewhat earlier in the business conversation? Is it about new business operating models? It means a lot of different things to different organisations."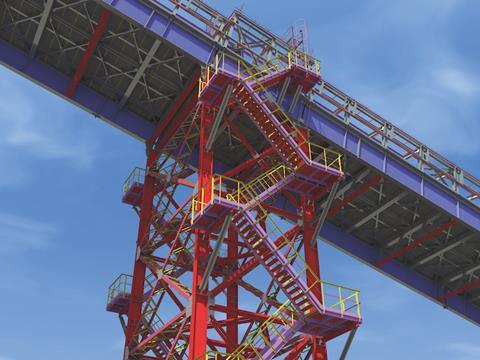 Against such a background, procurement delivery is undergoing a transformation, according to Alex Small, BIM and digital platforms manager at Tata Steel. "And the question is around how can firms like ours add more value in the supply chain? How can we be more engaged? What data do we need and how do we need to make it available in order to link into our suppliers directly?"
Much as there are variables across the supply side, the differences among customers also need to be acknowledged and responded to, according to Richard Morris, director of insight and sales operations at Speedy Services. "If you go and speak to a Balfour Beatty, and ask what digital means to them in the world of BIM, in comparison to a tradesperson in the merchant world, there's a huge variation. We're all looking for that competitive differentiation. And I think data is an area we can apply that. It's just about applying it to the right customer group, so it connects with them."
Mark Gatrell, head of research and development at Sika, said his firm was exploring the possibilities and forming ideas on where it wants to get to as a company in the next few years with regards to AI. "It's not purely about business process engineering. I'm interested from a research and development perspective, the way in which digital, or the virtual representations of equipment and materials and factories, can potentially play a part in the future, driving innovation design and research and development productivity."
We're all looking for that competitive differentiation, and data is an area we can apply that. It's just about applying it to the right customer group, so it connects with them

Richard Morris, Speedy Services
One of the many challenges facing those seeking to push a more digitally attuned approach among construction supply chain players is simply scepticism, says Peak's Mark Perkins. "There is a lot of traditional decision-making, certainly around big capital projects, and contractors have always worked in a certain way. They've got decades of experience and intuition. That's how they like to make decisions. So if we come in with new ideas that might challenge that and offset their ways of working or require a different process, it's often very difficult for them to get on board. There are definitely cultural hurdles to overcome."
Perkins said proving to those sceptics the value proposition could be another difficult stroke to pull off. But there is a route to success, he believes. "If you can get some sort of science to show this working, and it has early promise, then suddenly you start to see people be more open to it. They see the potential, and recognition of the opportunity starts to grow within the organisation."
A cultural shift
Speedy's Richard Morris agreed that having tools and systems that help people make better-informed decisions is quite a journey for some in the industry. "Sales people are very traditional. For them to have a system that comes along and starts to challenge their thought process, that's going to be a cultural shift. They need to be able to see that there is a journey to go on there to allow them to have more information that will improve the output of their decisions, not make those decisions for them."
Knowing what you want out of online technology is crucial, said Martin Sutton, commercial director at Peak. "If you go out looking for technology without trying to find out what problem is they are trying to solve, it will fail. What works really well is starting with a hunch, either a specific 'we think we could do something better', or simply 'we want to grow faster', or 'we've got a real focus on profit'. That approach provides focus for whoever is helping the client use the data efficiently."
I hope that our working worlds continue to be different. I think that will continue to drive social and economic change

Ben Hodson, CMOStores.com
Eurocell's Andy McDonnell brought up the generation gap. "Senior leaders perhaps come from a different generation and quite often they don't know how to do it. Egos get involved and the power thing gets in the way. But the desire's there. There's a wide choice of which platform to go with, and there's a desire to find the right strategic partner."
Recognising potential
In terms of considering an investment in a particular technology, Morris said "the question will be 'what's the upside?', whether that's in the supply chain, in raw materials, efficiencies in factories, or whether that is in the customer journey and the growth using AI. It's about recognising the potential. Some have already done it. Supermarkets chains blazed a trail with data, for example."
For Tata Steel's Alex Small the biggest issues are not always around things like proving a business case for adopting AI, or deciding on further analysis of particular data. "We experience two main problems. We have to decide on which project takes priority, because you haven't got enough people to do everything at the same time. And the second challenge we have is getting the right data in the right way; it's not necessarily a format issue, but getting the sort of mass data that tells the story in the first place. Making the data accessible and available to do that has been the biggest challenge."
Meanwhile, amid the drive towards a digital future, the industry has had to contend with the coronavirus pandemic. Those round the table hoped that many of the innovations taken up out of necessity during the past nine months would remain.
CMOStores.com's Ben Hodson summed up the mood: "I have a hope, which is that the change we've seen to all of our working worlds remains in some way. I hope that our working worlds continue to be different. I think that will continue to drive social and economic change. Of course, there are many businesses that need people, face-to-face interaction and so on, but I hope that we can generally change our working practices."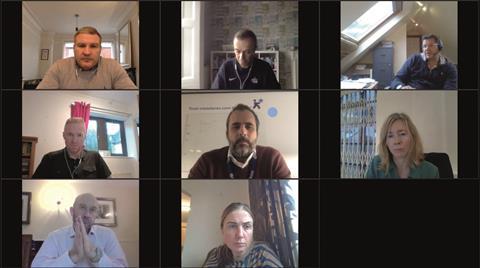 Round the virtual table
Louise Foody, director of digital and brand, Kingspan Group
Mark Gatrell, head of research and development, Sika
Ben Hodson, marketing director, CMOStores.com
Andy McDonnell, managing director, Eurocell
Richard Morris, director of insight and sales operatios, Speedy Services
Mark Perkins, commercial manager, Peak
Alex Small, BIM and digital platforms manager, Tata Steel
Martin Sutton, commercial director, Peak
Chair: Chloë McCulloch, editor, Building