Businesses willing to try new technologies, introduce different ways of working and embrace digitalisation could emerge stronger
At the beginning of the year, little did we know just how much the construction industry was set to embrace digital transformation as it has done over the past few months. The effects of covid-19 on the global construction industry is undeniable and we're seeing substantial moves forward into a new way of working as construction businesses find themselves at a pivotal juncture.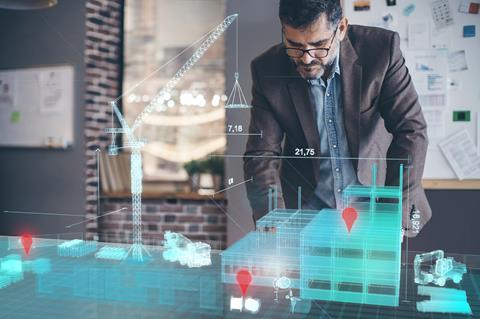 Across the board, the pandemic has changed the way we work. For construction, early 2020 saw unscheduled closures of jobsites, supply chain issues, lack of materials, and projects put on hold. These issues have affected productivity, the workforce, and stunted cash flow for many businesses. According to figures released by the Office for National Statistics, 46% of firms suffered a reduction in their turnover between 27 July and 9 August.
Now, as we get back on track and return to jobsites, the challenges lie ahead in the road to recovery: adapting to the new normal and getting projects back up and running. Digitalisation is playing a key part in facilitating these changes.
There is a lot to consider after a turbulent year so far. Following the new and regularly changing government regulations, keeping workers safe, improving productivity lost during site downtime, and considering cost-efficiency, are just some of the considerations. The good news is that there are solutions out there that can assist with workplace management and productivity with the covid-19 restrictions.
We find ourselves in an unprecedented time; however, construction is a resilient industry. There is an optimistic view to be seen when thinking about the future of construction. Embracing technology and new ways of working will provide a solid foundation for this.
Long before covid-19, many construction businesses' processes, operations, and procedures were considered outdated and the current climate is shedding light on this. The benefit is that companies can now identify the gaps to be bridged through digitalisation. For many companies, embracing new technology to keep on track during covid-19 has meant fast-tracking technology solutions that would have otherwise taken years to integrate.
For example, many industries have had to get used to remote working almost over-night. Digital, cloud-based platforms like BIM (Building Information Modelling) are integral to the shift toward remote working in construction.
Digital collaboration and moving projects online allow for real-time sharing of documents and data across multiple departments, contractors and stakeholders as well as supporting covid compliant working. Accessing data from anywhere, at any time, enhances around the clock collaboration, which is especially important for projects that require input from stakeholders in multiple time zones and locations. With less need to travel and a reduction in face to face contact, digital platforms like BIM minimise risk and keep workers safer in a sustainable way.
Where remote working isn't possible, it is advised that people maintain a safe physical distance which can be a challenge on a busy construction site. BIM models all components of the construction process; tools, people, resources, materials, at all states of the building lifecycle and gives a detailed view of all these working parts. This functionality can help minimise covid-19 risk by tracking workforce locations around the job site – mapping areas of work so that touchpoints can be better controlled and contact between workers reduced. Through this advanced technology tracking, you can create separate, smaller pockets of individuals to work together in 'bubbles' while on site. This reduces the need for contact with other groups of workers, protecting people while creating efficiencies.
Adhering to guidelines while keeping projects going can be challenging. Digitalisation and product innovation is supporting safer working and can assist construction businesses in getting projects back on track effectively with less downtime and increased performance. There are key innovations ushering in the digital future of construction like BIM, human augmentation and digital asset management that businesses are looking to adopt to support operations.
The potential impact digitalisation and advanced technology will have on the construction industry is enormous and it's exciting to see what's on the horizon. covid-19 has undoubtedly brought challenges but is also a catalyst for the digitalisation of construction. The trends taking shape now amidst the pandemic will pave the way for the coming years on our road to recovery. Businesses willing to try new technologies, introduce different ways of working and embrace digitalisation have the potential to emerge even stronger than before.