Szerelmey Restoration has specialized in facade retention projects for many years, including Lion Plaza, Threadneedle Street, which at the time was the largest retained facade project in Europe and consisted of 11 adjoining buildings!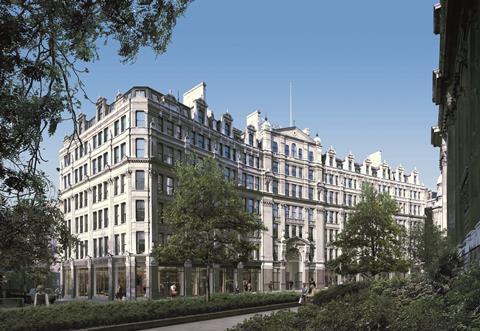 Over the last two years, and increasingly so, there has been a noticeable uplift in the number of retained facade projects taking place, particularly in London.
The way we use space and contemporary expectations on our buildings and the spaces we occupy have dramatically evolved in the last decade or so, to an almost unrecognizable extent.
Not only are expectations very different but the need to provide more actual space, whether living or working, and space with better efficiency is paramount.
Added to this is the balance of preserving our historic streetscapes while embracing the contemporary skyline; sometimes this results in retained historic facades that are integrated into much larger contemporary facades, to both positive and negative end.
There are two approaches to retaining facades. In some circumstances it is possible to retain the facade in situ, supporting it with steelwork whilst the building works are enabled behind; this method was employed on 5-7 and 15-17 St Helen's Place facades, and currently at One Crown Place. In other cases, it is either not possible to take this route or more efficient not to, and the historic facade must be carefully dismantled, stored and rebuilt to its original appearance, or in some cases stretched and sympathetically altered; we are currently on site at the corner of Moorgate and London Wall and have commenced rebuilding.
In some cases, if the facade is beyond safe repair and the stonework deteriorated, then surveying, dismantling and rebuilding the facade using new stonework but in replication to the original is an option.
In order to retain or dismantle historic facades it is essential to have a thorough understanding of the existing building, including its age, the structural build up and connection between the facade and internal structures, the relationship of the building to its neighbours and knowledge of the foundations. This type of work should only be carried out by a specialist contractor such as ourselves.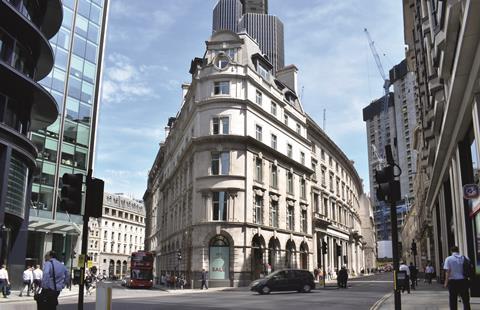 Retained facade remaining in place
Irrespective of retaining or dismantling, a thorough and detailed survey must be undertaken in the first instance. The survey allows the original method of construction to be understood and serves as a record of every stone. Enabling works on site are carried out and protection installed to the facade and to any internal faces that are to be preserved. The facade retention structure is installed, including foundations, kentledge (weight to act as a counterbalance), the frame itself, connections to the facade and initial testing undertaken to establish suitability of anchors to be used as temporary fixings.
On completion of erection, the facade retention structure is inspected, and any damage to the facade is recorded and repairs made. Weatherproofing is installed, if necessary, to the newly exposed tops of the walls.
The facade and facade retention structure is regularly inspected, with findings recorded and logged, key elements are checked and adjusted as required. As part of the ongoing inspections, movement is recorded and logged and action taken if it reaches the trigger level.
The new structure is constructed behind and tied into the permanent retention structure.
Once complete, generally the temporary facade retention structure is dismantled and a working scaffold erected in its place. In some cases it may be possible to design a working scaffold around the retention system. Early engagement with a specialist like us is essential at planning stage so we can advise accordingly. The facade can then be cleaned and surveyed, after which all necessary repairs can be undertaken.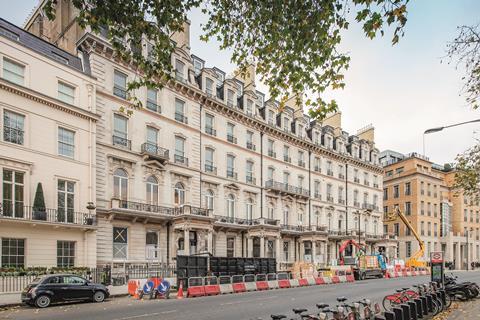 Dismantling and reassembling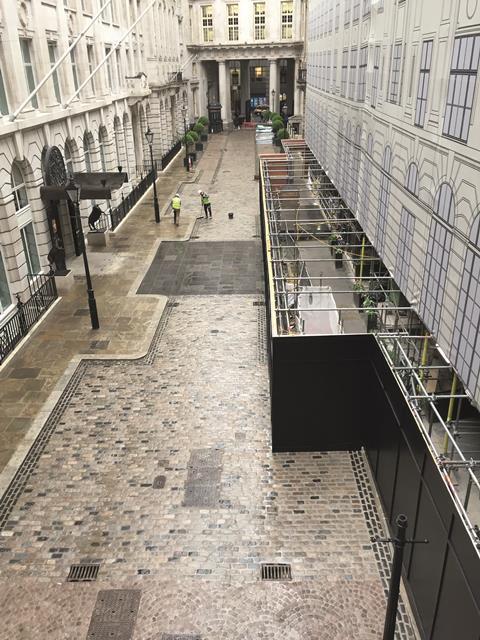 This process of completely removing the historic facade while the new building works are taking place, can in some cases be less complex and therefore more efficient; there can also be a cost advantage. It is significant too that in this scenario a new frame is erected to fix the stones to, rather than working around the existing, historic frame and any problems associated with it.
This method can be considered when the new build works taking place involve the digging of new basement levels, for example, that can cause stability issues with a retained facade kept in place. A detailed, photographic survey is undertaken to log and record the position of every stone and the state of each individual stone.
The survey information will include CAD plans indicating the stone arrangements at every stone course and CAD elevations and plans indicating the stone arrangements, and a record of control dimensions.
Before dismantling, a detailed investigation into the fabric of the structure from the inside to expose the back face of the masonry and allow examination of the fixing system and structure is made. X-ray surveys are used to assess the extent of the embedded structure and steelwork and a small sample area of the facade is carefully dismantled to assess the mortar, the ease with which the stones can be removed, the original method of construction and to understand where there might be problematic areas, if any.
This sample panel is used as a standard to allow the stone to be matched to, if and when this is necessary. The stones are numbered and placed on pallets in the order in which they will need to be reinstated before being carefully transported to a secure storage facility. Once there, any stones that require piecing in will be carried out. Once the site works have been completed, the stored facade is reassembled according to the approved drawings, tied into the new structure using appropriate methods and any minor in-situ repairs required will then be carried out.
Over the years, Szerelmey Restoration has worked on a great many facade retention schemes including Lion Plaza, Condor House, Belgravia Gate, St Helen's Place, Moorgate and London Wall and One Crown Place.
Our specialists at Szerelmey are always happy to discuss any restoration projects, so please contact our office for further information on our services or to arrange a meeting.