Henry Riley's team used techniques both old and new to deliver this project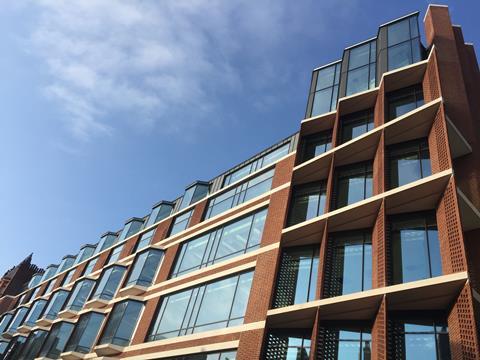 The technology needed to design and build a multimillion-pound state-of-the-art healthcare facility is immense, especially when you include elements like prefabricated panels modelled in 3D using BIM Level 2 and digging out a 19m basement. But when it came to managing the project on a day to day basis, Henry Riley's team, who oversaw all aspects of the build for six years, used something altogether more old school: collaboration, communication and teamwork. With the project now completed, Donna Fitzpatrick, who was lead project manager on the project for Henry Riley, explains how these three principles laid the foundations for the build.
Faster pathways
University College London Hospitals NHS Foundation Trust (UCLH) is a leading teaching hospital, providing top-quality patient care, excellent education and world-class research.
The Royal National Throat Nose and Ear Hospital and the Eastman Dental Hospital are part of UCLH and have international reputations for excellence around nose, throat, ear, teeth and oral surgeries. UCLH wanted to build on this reputation by improving services through the development of new, innovative treatments. But the age and structure of the former hospital buildings were limiting how much they could develop services. In addition, the location of the hospitals in King's Cross, meant that patients sometimes had to travel to other UCLH sites during treatment which often meant more visits.
The solution? A new state-of-the-art facility adjacent to the Trust's main buildings on their Bloomsbury campus; a site that was occupied by the medical school's Students' Union and the Royal Ear Hospital. The challenge? Constructing a new hospital building which has 200,000 outpatient appointments a year in the heart of London in the middle of a conservation area.
This is known as a transformation of services. It's about improving efficiencies by clustering services together. So, a patient can see a consultant, move a few rooms down to have an X-ray and then come back to see the same consultant again, all within the same visit.
Culture of collaboration
Already part of the 1st Generation NHS framework, Henry Riley won the tender following a lengthy process, and came on board at the same time as the architects, the engineers, and the QS. For the duration of the project Henry Riley has been the key contact for the client and the "centre of everything".
So when it comes to project managing a multimillion-pound build, what's the approach?
"Working with partners, the client team, users, and contractors we developed a non-confrontational environment," says Fitzpatrick. "A culture of collaboration. A culture of 'we're all in this together.'"
Thanks in no small part to the use of version 3 of the new engineering contract (NEC), a series of plainly written contracts which aim to prevent costly disputes and are designed to manage a project from start to finish.
So how did that work in real life? As soon as there was a problem – or it looked like there may be a problem - the issue was raised and dealt with. The Henry Riley team looked at the situation, how it could be fixed and then they drew a line underneath it and moved on. There was no finger pointing and no blaming.
"The NEC gives early warning notices, so you're able to bring anything to the table that's looming," says Paul Thomas, construction director at Mace, the project's main building contractor. "Any problem becomes the teams' problem, whether it's a domestic issue or an outside influence."
Fitzpatrick agrees. "Mace - or any of the contractors - would say 'we're working through this problem at the moment. It's not your liability and it's not going to impact on you, but we want you to know about it.' Then I'd reply, 'Ok, what can we do to support you? Is there anything we can do to help?'"
No problem
"We called it a learning culture," says Kevin Bates of Scott Tallon Walker, the architect for the clinical spaces and also technical adviser to UCLH. "There was no blaming when something went wrong. We saw it as an opportunity to learn from each other and take that forward into the next project."
Scott Tallon Walker also recommended CertCentral a bespoke building certification designed by i3PT Certification, which was bought into by the client as well as Henry Riley and Mace. This ensured that information was easily shared and communicated and flowed seamlessly from the client to the contractor. The 'golden thread of information' referred to by Dame Judith Hackett in her 2018 post Grenfell review.
By encouraging everyone to speak openly and honestly, without blame or finger pointing, Henry Riley's team created a positive culture of trust and collaboration according to Bates: "There needs to be trust between all the parties. Complete transparency. That way, there are no problems, only solutions."
Canteen meetings
This ethos of open communication and collaboration was carried through to every aspect of the project by Henry Riley, and stakeholders, conservation groups, local residents and the local authority were all fully engaged in the process.
Was the prospect of a brand new facility welcomed with open arms by every member of the clinical team? "Yes. And no, there are always challenges around business change." Says Fitzpatrick.
The UCLH leadership team were clear from early in the project that it was more than just a building, but also about transforming services. There was a need to make sure the benefits of the project were clear to all staff and patient groups within the hospital.
Consequently, the UCLH Communications and Engagement Lead and Henry Riley team set up monthly engagement sessions for staff. For example they ran sessions in the canteen at lunchtime answering questions. Fitzpatrick says, "Staff and patients would ask questions and we'd say, 'don't worry because this is what's happening' or 'we've heard your concern and we'll take it away and do something about it".
Open door policy
Of course, it's not just clinical teams and patients who want their say.
The new facility sits in the middle of the Bloomsbury Conservation area on the site of a 1950s student union building, which was built during the Festival of Britain, on one side, and the Royal Ear Hospital built in 1927, which had pioneered early ear surgery, on the other. While the 1920s building wasn't listed, it had been identified as a positive contributor to the conservation area and was much loved by a local conservation group, the Bloomsbury Conservation Area Action Committee (BCAAC). Naturally, they had concerns about the project.
Secondly, the site is situated next to Gordon Mansions, a fine-looking Georgian mansion block. The Gordon Mansions residents' association (GMRA) had a keen interest in every aspect of the build.
And thirdly, is the local authority, who ideally wanted to keep the 1920s façade. Architects Pilbrow & Partners were bought on board to design the new façade and the team worked closely with Camden's planning department, listening to them and understanding their concerns.
Fitzpatrick explained: "To get a big central London project like this over the line, you have to positively engage with all the groups, on a daily basis, in person. We knew what we wanted, and we knew what they wanted, and we just had to find common ground. We didn't submit until we were certain we'd addressed all the concerns from all groups. By listening to and working with the local planning authority, the façade developed into a red brick design made from prefabricated panels that include around 160,000 handmade bricks. It reflects the local area without being a pastiche, and remains a positive contribution."
Sustainability
So how about the building itself? Mace dealt with a range of logistical challenges such as digging a 19m basement and moving enough virgin clay soil to fill eight Olympic sized swimming pools. And as this is central London, moving materials proved a logistical challenge.
98% of the demolished building was recycled with the remaining 2% being asbestos. While the inclusion of a district heating system and the use of photovoltaic panels on the roof go towards it's BREEAM Excellent rating.
Lessons learnt
After six years, the build has been completed and now houses a state-of-the-art ear, nose and throat specialist clinical facility and dental hospital. It will serve approximately up to 1,000 adult and paediatric outpatients a day.
From a project management perspective what has been key to its success? "It's about getting real people round a table and collaborating from the outset" says Thomas.
For the Henry Riley team, it was about taking the basics around collaboration as laid out in the NEC and cranking it up a notch. The team worked hard to foster a culture of co-operation and transparency throughout. There was an open door policy. Anyone could go and talk to them at any time. If there was an issue, the team decided who is libel, agree the cost, underwrite it and move on. That issue is in the past and is never revisited. They just kept going forward and got the job over the line.
To find out more, contact Mike Hazelton, partner & health sector head at Henry Riley
Email: mike.hazelton@henryriley.com
Telephone: +44(0)20 8662 2200