Looking for outside the box tenants could be the key to success for commercial clients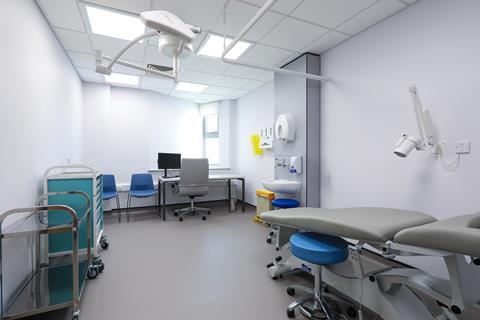 In a buoyant property market, which is to say when commercial space is at a premium, landlords can have their pick of tenants, go for either a mix of occupiers or take the alternative use option.
There are many alternative use routes to consider, but when it comes to deciding on one for a commercial property it's fair to say a medical facility isn't always the first thing to spring to mind.
But while converting a non-medical building into a medical one can be a complex procedure – there are certainly easier fit-out jobs – the benefits of a longer lease and a financially robust tenant can make such an undertaking attractive to landlords.
Market shift
Converting existing commercial space into clinical accommodation is nothing new. We have seen a number of examples, including transforming a 1960s office into a private hospital, a budget supermarket into a primary care facility, and the top floor of a multi-let office into a day-case theatre unit.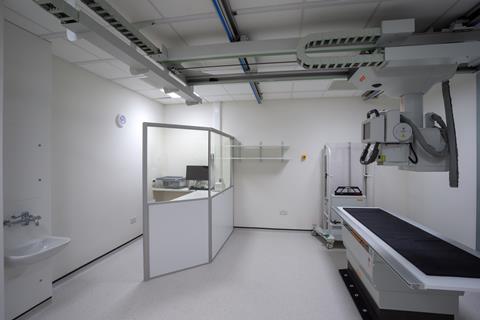 What has shifted in recent months has been the slump in demand for retail space, not least on the high street, and businesses reviewing their office requirements in light of coronavirus, which has seen swathes of people switch to working from home – something that may well continue after the pandemic.
Meanwhile, there has been an increased focus on healthcare, be it diagnostic, primary care, outpatient or inpatient provision. Where many landlords have previously preferred commercial tenants, they are now seeing alternatives offering a significant opportunity.
A change of approach
To keep up with this market shift, landlords will need to change their approach. They will need to embrace a much greater degree of building alterations to make their space lettable, a point that all parties need to understand.
Say a landlord owns a multi-tenanted office and wants to let the ground floor to a medical provider, and the medical provider requires installation of diagnostic equipment such as an MRI scanner. To make this work is highly likely that a quench pipe must be routed from the ground floor to roof level; if this cannot be accommodated the project is unlikely to be viable.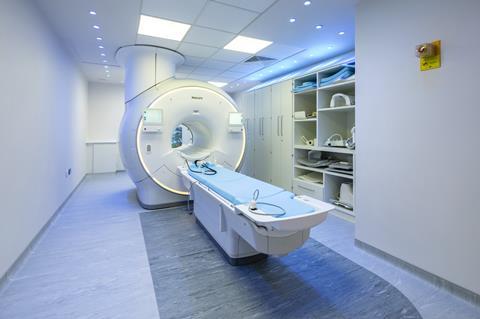 There has been a reset in the past 12 months in terms of demand from the commercial and retail sectors for taking vacant space. Will this result in greater collaboration in making medical facilities deliverable? Only time will tell.
Let's discuss the criteria that both landlords and medical providers will need to consider.
In considering the use of existing space, a medical provider will need to quickly determine whether the facility can become operational within the proposed existing building and whether it is suitable for conversion into healthcare. There will be a few showstoppers to be aware of, such as:
Planning restrictions. It is essential that both built and operational restrictions are established early.
Plant space. There needs to be sufficient space to locate the plant, either internally or externally.
Floor-to-floor heights. It is important to understand how the space will be used, and if the space requires large diagnostic equipment then a minimum height of 4m would be required.
Building accessibility. There needs to be a clear ingress and egress for the building, accommodating the use of wheelchairs and trolleys, while also ensuring emergency evacuation paths are set.
Repurposing checklist
In addition to the above showstoppers, the following checklist should be considered when judging which buildings have the greatest potential for transformation into medical premises. These issues can often be resolved or developed; however, they may impact on the affordability of the venture.
The overall benefit will need to be assessed at an early stage as location may drive the choice of the facility, and the constraints may outweigh the benefits if not managed realistically from inception.
When considering affordability, in addition to the usual "fit-out rate", the cost of the following must be factored in:
Window arrangements Room configurations should be aligned with the existing building so that alterations to the windows and/or facade are kept to a minimum. This could result in rooms being undersized or oversized and will therefore have to be carefully designed.
Retention of existing infrastructure Incorporating existing stairs, lifts and WCs into the proposed design is key to keeping costs down. For an inpatient facility, it is likely that the staircases will need to be significantly upgraded to enable mattress evacuation.
Weight of diagnostic equipment Older buildings with timber floor construction may not be able to take the load of heavy equipment such as an MRI scanner, resulting in significant structural supports or amending the design to house equipment on the ground floor or basement. Buildings with raised access floors will not take the weight of a scanner and may need a concrete plinth.
Building response factor This is especially important if operating theatres are being installed. At the feasibility stage, steel-frame buildings will often cause a higher level of concern than concrete, and it may be a significant cost to establish the base condition.
Power supply Diagnostic equipment (such as X-ray, CT or MRI) draw more power than any commercial or retail space typically would have. Therefore increased incoming electrical power supply may need to be provided to the existing building to serve the increased load.
Fire compartmentation Healthcare buildings require more stringent fire separation between the slabs compared with commercial space, so the fire integrity of the existing building floors may need to be enhanced.
Existing grid/columns locations The existing building structure will influence space planning, particularly regarding circulation space, where movement of wheelchairs and trolleys is essential to the function of the building.
Drainage Medical facilities often require more drainage than a commercial office due to the amount of clinical wash-hand basins. Consequently, the installation of increased drainage can be challenging and disruptive, especially if different tenants occupy the space below.
External space It should be explored whether there is any potential to locate plant externally. This will enable valuable internal space to be used for net lettable space as functional accommodation.
Neighbours Care must be taken to ensure medical equipment does not interfere with adjoining tenants within the same building. Acoustic and vibration separation methods may be required.
Raised access floors It is likely that existing buildings will have raised access floors. If so, these will need to be removed and reinstalled to allow construction of partitions and services within the floor void.
Choice of floor The ground floor is often the preferred floor as it provides good patient access. However, if the scheme is reliant on plant placed at roof level this can be difficult and costly to distribute.
Design standards It is essential that the relevant codes of design and design standards (for example, HTM and HBN) are established and fixed on day one, particularly around overnight stays.
Benefits of repurposing non-medical space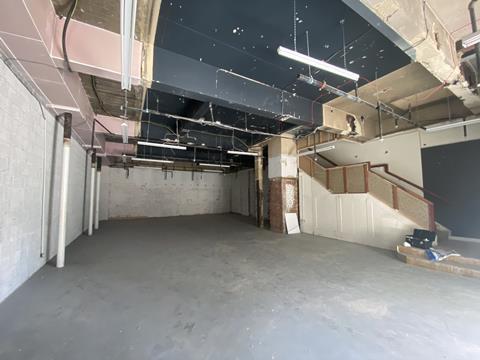 Although the above list may potentially be a concern and require compromises, it is important to appreciate the benefits of adapting existing space that would not be present with a new-build solution. These include:
Location – desirable sites unavailable 12 months ago may now be free for development.
It can cost significantly less than a new-build solution.
Timescale – it is possible to design and complete a 20,000ft² repurpose project in half the time it would take to deliver a new build.
When facilities are predominantly primary care or outpatient (meaning no overnight stays), alternations are usually minimal, meaning a compliant and affordable solution is achievable.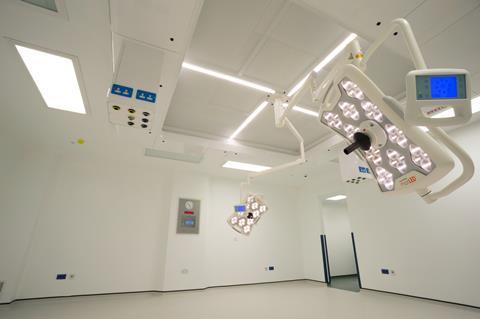 Conclusion
In summary, repurposing existing commercial or retail space for medical use can bring real benefits, not least by enabling facilities to become operational more quickly and at a lower capital cost. The overall solution can often work better with smaller, rather than larger, facilities.

Cost model
The attached cost model is of a completed project comprising the conversion of one floor of a multi-tenanted office to form a day-case hospital including two full theatres. The abnormal costs have been identified.