Sliding doors are now more popular than ever due to their flexibility and functionality, wirtes Paul Smith, Head of Specification Sales at Häfele UK
The typical footprint of UK homes is shrinking, meaning every square foot of space must be maximised.
Whether working on new build properties catering for the growing population, or high rise developments making the most of packed city centres, specifiers are now tasked with finding design solutions that prioritise floor space without compromising on design.
Against this backdrop, one feature has emerged as a simple yet effective solution. Sliding doors are now more popular than ever due to their flexibility and functionality, with their ability to solve the multiple design challenges associated with different spaces within the home.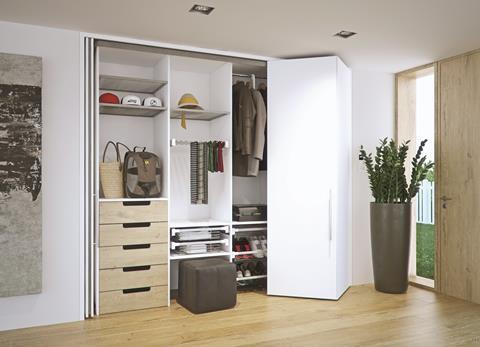 Functionality
Sliding doors have a use within every room in a home; they are a key tool in creating physical and visual connections in a space, and can carve out specific areas for designated purposes.
Once armed with the knowledge of the many ways they can be utilised, architects, designers, builders and contractors will come to see them as one of the most valuable design solutions available to them.
For example, you can create a whole-home layout that can easily shift between open and broken plan on demand, or save space in a small kitchen by applying them to cabinet.
Additionally, they can be used to design a hidden home office or become a key part of elegant bedroom furniture.
Sliding doors achieve the style and functionality required to suit customers with varying needs and uses for their home, while saving on valuable floor space when compared with traditional swing-out doors.
Inspiration
Whatever the application, one of the greatest benefits of sliding doors is their ability to make any space versatile, which goes on to have a positive impact for the user.
Sliding kitchen cabinets
In particularly small kitchens, swing-out doors can make manoeuvring the space difficult, so sliding doors offer a great alternative for wall-mounted cabinets.
The Eku Frontino offers a flush sliding or coplanar system for pairs of cabinet doors, and ensures complete access to all items within the cupboard.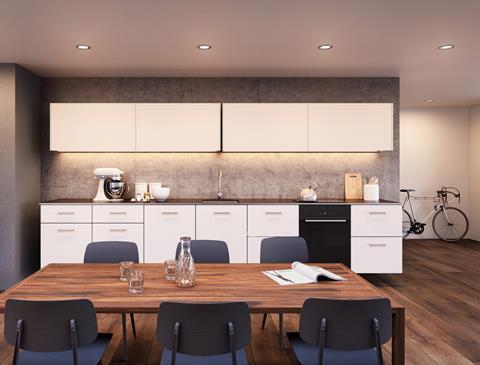 Wardrobes and furniture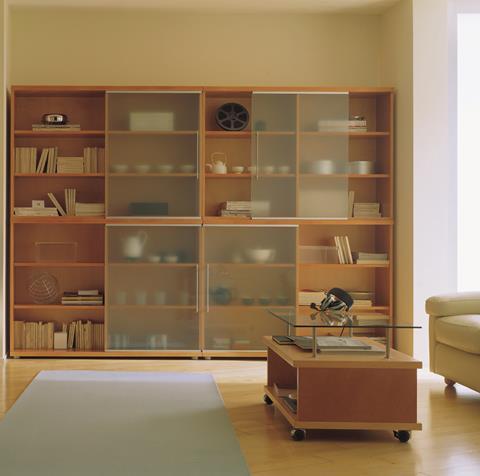 Using sliding doors like the Hawa Clipo in wardrobes and other furniture can help to save valuable floor space, while having a mirrored front to the sliding door frees up wall space where a standalone mirror might otherwise hang.
Broken plan
Sliding doors are an effective way to achieve a floorplan that can be opened-up and shut off on demand.
Using sliding doors, large, open plan spaces can be broken down into smaller zones to cater for different users and their activities, while also acting as a striking design feature.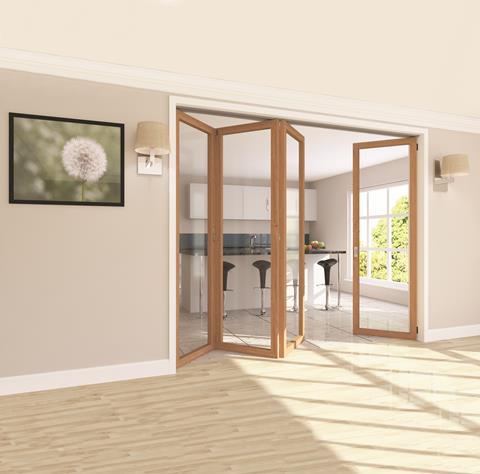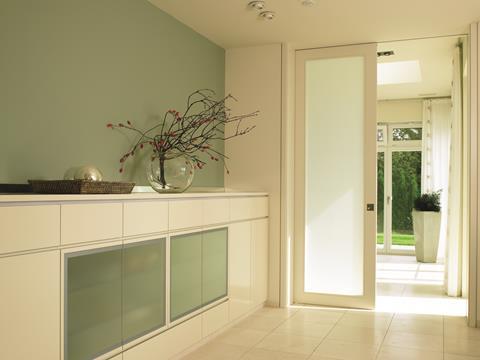 Pocket doors
Retractable into a recess built into the wall, pocket doors are a brilliant alternative to swing-out doors in spaces that have a truly limited footprint, as they save around 1m of floor space and additional wall space compared to a more traditional solution.
You could use them as a way of accessing a small kitchen or bathroom, for example, or as a partition between a kitchen and dining room.
Slide and pivot
Slide and pivot systems, such as the Hawa Concepta, have surged in popularity in recent years.
As a hinged system which can slide back into a concealed pocket, slide and pivot doors help to completely close off areas of the home – such as home offices or arts and crafts stations – when they're not in use, creating a wow-factor while simultaneously helping to achieve a minimalist look.
Internal bi-folds
Internal folding sliding doors – sometimes referred to as internal bi-folds – are typically made up of between two and six doors, which are linked together using sliding door gear.
These systems allow the doors to fold onto themselves in a concertina style shape meaning they don't take up too much space when not in use, and when in action, they can close off areas like kitchenettes while also acting as a great design feature.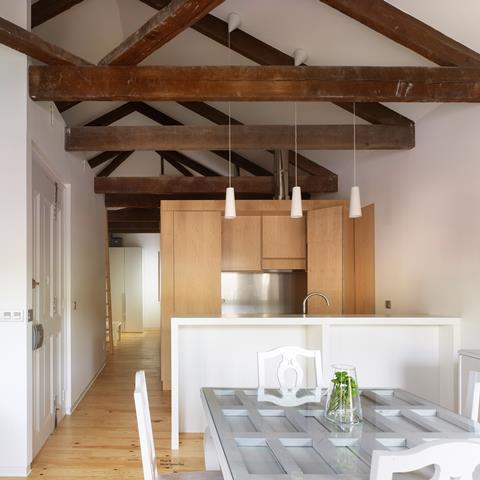 Specification
No matter how you're choosing to use sliding doors, the key to making sure that they function effectively and safely comes down specifying the right sliding door system for the space in question.
Most sliding door systems typically consist of a track, running gear or trolley hangers, and a bottom guide or track, but from there, you need to consider several factors.
Firstly, measure up. Knowing the size of space you're dealing with will determine the number and size of sliding doors required. Secondly, the material of the door – whether that's glass, timber or aluminium framed – will influence which sliding door gear is required.
There are different types of sliding mechanisms to consider too, for example, straight sliding, bi-folding, pocket, or sliding and pivot doors. Following on from this, the weight of the door is very important. You can use a door weight calculator to make sure you select the right door and associated door gear to ensure it works seamlessly.
Taking into consideration who will use the door, where it will be installed and how regularly it will be used will further inform whether you need to opt for a low, medium or heavy-duty option. Finally, the budget and any additional features, such as soft-close will all feed into finding the most appropriate sliding door system for your requirements.
Providing these details to the Häfele Projects 360 specification team will enable them to provide you with a comprehensive priced schedule of the correct sliding system to meet your requirements.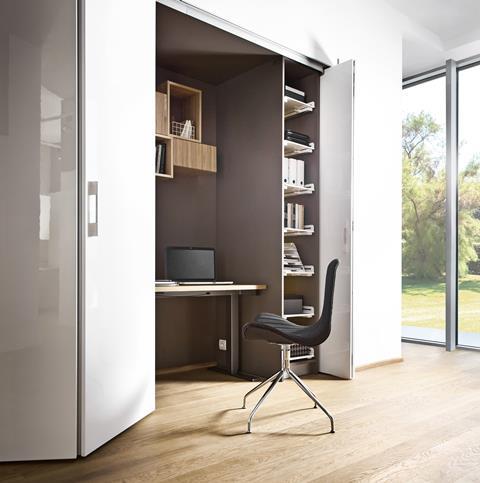 Support
At Häfele, our team of over 20 DipGAI qualified ironmongers support the industry to put architectural ironmongery central to the design and delivery of residential spaces.
Individual components such as door hardware – though more intricate details of a space – shouldn't be underestimated for their ability to complete a vision and bring it to life alongside sliding door solutions.
Our Projects 360 team works in partnership with architects, designers, specifiers and contractors to ensure operators in the residential sector can benefit from a tailored programme of work when it comes to sliding doors.
Each is designed around specific budgets and offers bespoke solutions, with our design consultation, product specification, order management, ongoing support and after sales care included as standard to guarantee customers the levels of accuracy and attention to detail they require for every part of a project.