The technology could be key to driving built environment decarbonisation, writes Don McLean, chief executive officer at IES
The new year brings the reiterated message that environmental change needs to happen as quickly as possible. There is no longer time for half-hearted pledges, and as ESG concerns creep further up the agenda, organisations' sustainability credentials are set to come under yet more scrutiny from customers, partners and stakeholders.
This year, we hope to see more firms making solid plans to reduce their impact on the environment, and a key element they need to be considering is the impact of their buildings and premises, and how performance-led design can improve this.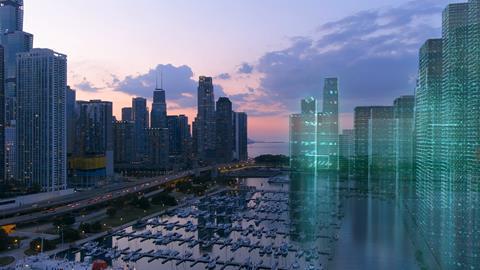 According to the UK Green Building Council, the built environment contributes to 40% of the UK's total carbon footprint. Almost half of this is from buildings' in-operation energy use which is often unregulated. To truly bring the climate impact of the built environment to a minimum, more needs to be done to reduce these "in use" emissions.
This is a step change that will undoubtedly be driven in the coming years by the uptake of emerging energy rating schemes, such as NABERS UK, which focus on monitoring and assigning ratings based on the operational performance of new buildings.
However, while such schemes remain relatively new – and voluntary – there is progress to be made in upskilling the industry in the effective implementation of such schemes, as well as gaining the necessary buy-in from clients.
What role can technology play?
New technologies, including digital twins – virtual versions of real-world buildings, districts and portfolios, which can be used to test new approaches and systems – make it easier for organisations to cut their building emissions, as well as save energy, reduce costs and drive operational improvement.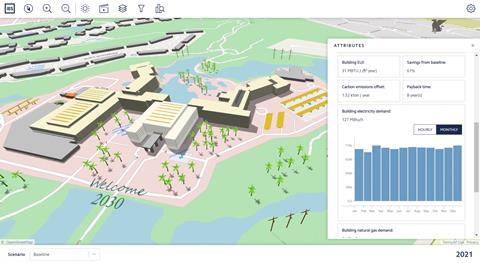 Energy-saving measures, such as light sensors and insulation improvements, as well as renewable installations and district-level energy provision and storage solutions, can be tested virtually. The physics-powered technology allows leaders to gauge exactly how much energy and money each testbed measure will save, without having to implement it in real life at cost.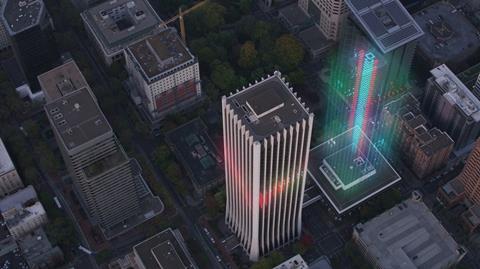 Digital twin dashboards drive operational efficiencies, track progress towards targets, measure and verify results and test which improvements will be most impactful.
These advanced tools transform data into information and decisions are based on accurate insight for maximum impact, marking a clear route-map to net-zero. Without this level of detailed insight, decisions would be made based on assumptions and, as building alterations can be expensive, may result in costly mistakes.
Utilising performance design technology is the most efficient and accurate way to achieve net-zero built environment targets and empower business leaders to make sustainable improvements. With the latest Green Alliance net-zero tracker report showing that building emissions have only fallen 10% in the last decade, digital tools are crucial to drastically improve this reduction.
Bridging the gap between ambition and delivery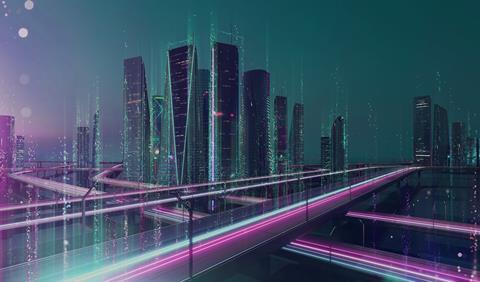 For its City of Tomorrow report, IES spoke to a wide range of professionals working in the built environment sector about the current status of sustainability methods and targets, including engineers, facilities managers, contractors, developers, planners and architects.
The research revealed that, while professionals in the industry care deeply about environmental issues, there is a gap between ambition and delivery. Only 29% of those working in the sector feel that the sector should be doing more to reduce its impact, 45% underestimate the proportion of the built environment's emissions and a fifth (21%) are yet to even begin making sustainability progress within their organisation.
When those working in the design and operation of buildings fail to consider operational carbon emissions, they only reveal a partial picture of the environmental impact of the building. Performance design needs to become a standard across the sector as without that full picture, we don't have the evidence to decide the best and most effective next steps.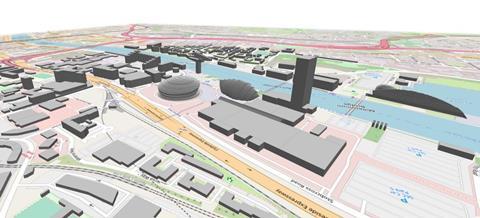 The research found that currently, targets, standards and reporting schemes mainly focus around predicted building performance and pledges, disregarding in-use performance. So far, just 1% of building professionals use the new NABERS UK rating system.
Despite being a formidable instrument for the decarbonisation of the built environment, only a third (36%) of those working in the sector use digital twins.
Final thoughts
The objective now is to harness the sector-wide determination for sustainability and ensure professionals within the industry are using data and tech-informed solutions to address built environment carbon emissions. In the case of digital twins, the awareness is largely there, the challenge is increasing understanding and usage.
For performance design to become further embedded, so that use aligns with awareness and intent, stakeholders, from end-users and industry professionals to technology providers and government agencies, need to articulate the impact of in-use emissions. By bringing this to the forefront instead of allowing a 'design for compliance' culture to rule, we could see much more rapid decarbonisation of the built environment and a significant step forward in the overall fight against climate change.
Please click here for more information