Cross-laminated timber is fast establishing itself as a quicker, greener alternative to concrete or steel structural frames. With the market growing threefold in the past two years, is it time to consider it a genuine rival to the big two?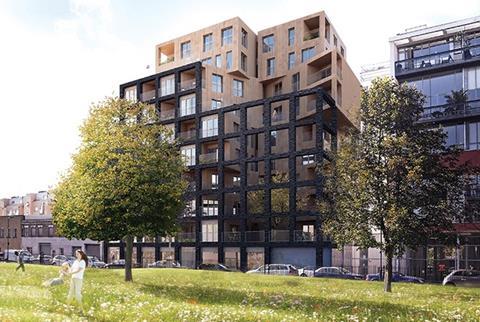 Cross-laminated timber is the product most likely to keep people in the structural steel and concrete business awake at night. Known simply as CLT, small timber sections are formed into large structural panels that are light, stable and very strong.
These panels, which are available in a variety of sizes, are great for building entire structures, including internal walls and floors, very quickly. The lightweight nature of the material means foundations can be smaller and cheaper, it is clean to use, with little waste, and it is made from readily available, renewable softwoods, which makes achieving high BREEAM ratings easier, and looks good in the corporate sustainability report.
Moreover, while most of the noise around modern methods of construction is concentrated on low-rise buildings, the height of CLT buildings is creeping up. Two years ago developer Lend Lease completed a 10-storey residential block in Melbourne, the world's tallest CLT project to date, and now engineer Ramboll is working on the structural design of two 10-storey residential buildings in the UK.
Gavin White, a structural engineer and a veteran of 40 CLT buildings, sees no issues with aiming higher. "On a practical level I don't see why we couldn't go up to 20 storeys," he says. "We are very comfortable with the 10-storey buildings we are doing."
So how good is CLT really, and how much of a threat does it pose to alternative structural systems?
Growing fast
CLT has been around for several years, with most of the demand coming from the education market. Several factors have come together to fuel the growth in the product's use. A resurgent housing market is putting pressure on supplies of traditional materials and prompting developers to look for speedier alternatives - "Brick and block is slow and labour-intensive and you can't get hold of the blocks," says White.
"Housebuilders and developers are waking up to the fact they can get their building up and get their money back faster [by using CLT]."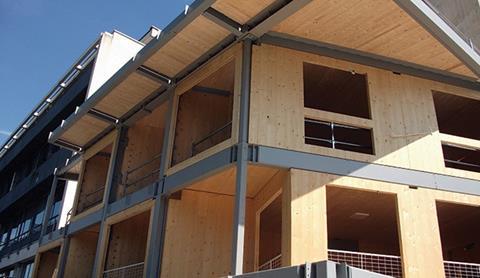 There has also been a move away from the use of timber frame for multi-storey apartment blocks. According to the 2013 TimberTrends report the market for timber frame buildings over two storeys declined by 15.8% between 2011 -12 compared to a 1.2% decline for buildings under two storeys.
There is no official data for the growth in CLT but B&K Structures, one of the three major UK suppliers, describes it as "absolutely huge". Nick Milestone, B&K Structure's managing director, reckons the firm will sell 11,000m3 of the stuff this year - a figure that is increasing rapidly year on year, with 8,000m3 sold last year and 4,000m3 in 2012. Originally a structural steel specialist, B&K's turnover has increased from £14m in 2012 to £24m today, with most of this impressive growth fuelled by CLT - it makes up 50% of the firm's turnover compared to just 20% three years ago. "I think the growth of CLT will continue at this rate because of the high-rise residential market," says Milestone.
Lend Lease's Melbourne project was actually a big R&D project for the firm. It is now using CLT in Singapore and is building a three-storey, 30-apartment block at Elephant and Castle in south London to work out exactly how to get the most out of this method. "As we get smarter we should really be able to capitalise on the benefits of CLT," says Pascal Mittermaier, Lend Lease's project director for the £1.5bn Elephant and Castle regeneration scheme and former head of sustainability for EMEA.
"We are trying to achieve the regeneration of Elephant and Castle under the 'people, planet, profit' banner," explains Mittermaier. "Compared with concrete or steel, the environmental benefits are hundreds of times better. It is a renewable material, there is very little waste during production and it is very carbon efficient to transport. CLT allows us to achieve better fabric efficiency as the panels fit together so precisely, which saves money on the heating system," he says. "There are dramatic programme benefits and it is much safer to erect."
Mittermaier intends to build just over half of the 3,000 homes planned for Elephant & Castle out of CLT. The only thing holding him back from increasing this percentage is that the rest of the homes will be in blocks up to 40 storeys high. He adds that Lend Lease has worked with BRE and NHBC to prove the resilience of CLT to fire and water and has got the blessing of major insurers and mortgage funders.
In terms of the bottom line Mittermaier says that CLT is more expensive than concrete or steel but this is balanced out by the programme savings. "At the moment we have rough cost parity with [concrete and steel]," he says. "When we are building thousands of units the costs should come down." He adds this could result in Lend Lease supporting a UK manufacturing operation - at the moment the panels come from Europe.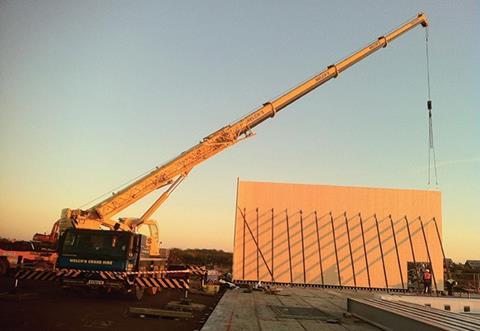 Where next?
The main casualty of the CLT boom is concrete. This is the default choice for many apartment blocks because of its inherent fire resistance and acoustic properties. CLT is at a disadvantage here - apartment blocks need additional acoustic separation measures. But White says CLT burns at a rate of 0.7mm a minute which means fire resistance can be factored in by using a slightly thicker panel. CLT has a much smaller surface area to volume than traditional timber frame which makes it more resistant to fire. "It's a manageable risk rather than something that will stop people using CLT," says White.
Could CLT start making inroads into the commercial sector, a market traditionally dominated by steel? Steel is fast to erect which means the programme savings aren't there and commercial buildings feature large spans that cannot easily be bridged by CLT. But White reckons CLT could be used in combination with steel for shorter spans and flooring because of its environmental credentials. And small commercial buildings with shorter spans would be suitable for all-CLT construction. "Commercial is the next big market for CLT," says White. "There is definitely scope for it there."
CLT was going to be used for part of the structure of the stalled Google HQ in King's Cross, London. The plan was to use a primary steel floor structure infilled with CLT panels sitting on the lower flange of the steel I beams. This would have supported raised access flooring, with the finished floor sitting just above the top of the steel beams.
One of the biggest barriers to the march of CLT could be skills shortages in a resurgent economy. "It is very hard to find good structural engineers with timber experience," says White. "If more people were coming out of university with timber experience you would see it being used more."
The established nature of concrete and steel mean that they are not going to be displaced by CLT overnight. But CLT is a rare thing in the conservative world of construction - a material that taps into the sustainability zeitgeist but also has solid practical and commercial advantages. This means it has the potential to disrupt the existing duopoly - and some people's sleep.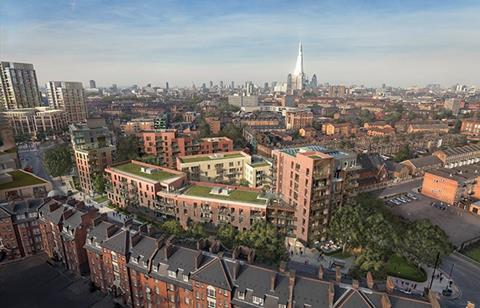 The speed test
One of the great advantages of CLT is its speed of construction. The panels are made to measure in the factory, complete with openings for doors and windows. This means that lead-in times are longer - typically 12 weeks from scheme design to the panels arriving on site - but after that, things move fast.
John Mills, construction manager for Lend Lease, is overseeing the construction of Trafalgar Place, the first phase of the Elephant and Castle regeneration. This consists of seven apartment blocks containing 235 flats. Two blocks containing 30 apartments are being built from CLT, and Mills is already a convert. "It's so much quicker, cleaner and less hazardous than concrete," he says. "Only eight men were needed to construct this block rather than 60 or 70 if we had used concrete."
Mills says the first CLT block took 12 weeks to construct compared with 20 weeks for concrete, and adds that it should have taken just seven weeks but not enough crane time was allocated to the job. The crane was shared with the concrete team and there were issues with wind. "Next time the CLT erectors will have a dedicated crane," Mills says.
The panels arrive ready to crane into position and are simply screwed together. "With concrete you need carpenters to build the shuttering and more men to put in the rebar, pour the concrete and strike the shuttering," Mills says. "And there is a five-week propping regime while it cures." With CLT, follow-on trades can start work as soon as each floor is completed.
There are further time-saving benefits to CLT. The panelised nature of the material eliminates the need for lightweight steel framing systems to close in the building perimeter. And fixing materials to the structure is much easier as workers can quickly drill holes and insert screws. The speed of fixings could yield further cost savings, helping Lend Lease to tip the financial scales further towards CLT. "We are looking for savings; there are benefits for the supply chain and benefits for us," says Lend Lease project manager Martyn Fennell. "It could also make it easier to get trades as demand picks up."
Drilling into concrete is noisy and dusty and requires a special fixing. "There is no hazardous silica dust which is the second biggest killer on sites," says Mills, adding that, unsurprisingly, this makes CLT very popular with workers.
How sustainable is CLT?
An important driver for using CLT is that timber is a renewable material. The embodied carbon content of CLT is actually negative because carbon is locked up in the material, whereas concrete production is carbon-intensive.
However, Simon Sturgis, managing director of Sturgis Carbon Profiling, says the only way to judge the embodied carbon of different materials is to adopt a whole-life approach. The firm studied the whole-life carbon impact of an office floor constructed from CLT and steel and a floor constructed from post-tensioned concrete. It found the CLT solution was only 14% better in whole-life terms than concrete. It fared relatively badly because the study assumed the CLT would be incinerated after demolition, wiping out the initial carbon sequestration benefits.
What happens when operation carbon is factored into the equation? An argument in favour of concrete is that lightweight materials don't regulate internal temperatures well due to the lack of thermal mass. A whole-life carbon approach was applied to the Julian Study Centre at the University of East Anglia over a 50-year period. Ramboll modelled the job and found that concrete floors for this particular application had a lower whole-life impact than all-CLT. The building was constructed from CLT with hollow core Termodeck planks used for the floors. Air is passed through the planks before entering the space, and the planks' thermal mass helps to regulate the building temperature, saving energy.
The close-fitting nature of CLT means it is easy to make buildings very airtight - figures of air leakage rates less than 3m3/m2/hr@50pa are routinely achieved, which cuts down operational energy use.