While Brexit is a worry, their UK focus means most specialist contractors have less to fear than some, and workloads are healthy for now. But there are concerns about the pipeline ahead, and payment issues are a headache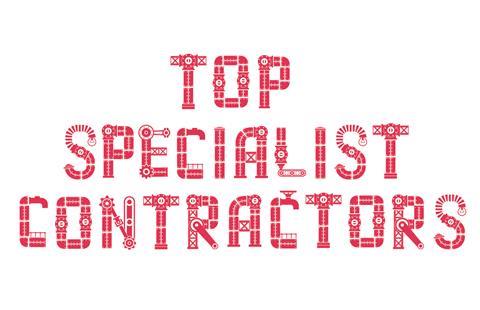 Brexit has put Britain's specialist contractors in an odd position: on face value they are busy and healthy – Building's annual league table, which ranks firms by turnover according to data from Barbour ABI, showed that the margins of the 15 biggest firms in the nine most important trades rose to 5.3% in 2016/17 from 3.6% for the same companies in the previous period. But Brexit has cast a shadow over the industry, with uncertainty causing concern for many industry leaders.
The enormous variation in margins within each subcontracting category, and the fact that a different set of companies would have made it into last year's tables, means the average margins of the biggest firms are a crude measure of the overall state of the industry. Nonetheless, it is worth noting that the margins for the companies in this year's tables rose between 2015/16 and 2016/17 in all trades except M&E (down from 0.6% to 0.1% on average) and cladding (down from 6.8% to 5.9%). At the top end of the scale, average margins for the largest 15 scaffolding firms leapt from -0.2% a year ago to 7.2%, as table leader Speedy Hire returned to profitability. In other categories, average margin rises ranged from 0.7 percentage points (concrete frame) to 2.4 percentage points (steel frame).
This accounting period overlapped with June 2016's EU referendum, so you could speculate that next year's tables are the ones that will show the impact of the leave vote. After all, a lot can change in a year: since Barbour ABI put these tables together, Lakesmere – the biggest cladding firm – has collapsed. But anecdotal evidence suggests it's still business as usual for most companies: several top firms are reporting healthy forward order books and plenty of work to go around. This is backed up by research from the Construction Products Association (CPA): senior economist Rebecca Larkin says activity in the industry is "going along at full steam".
If we knew [brexit] was going to be armageddon, people would cut their cloth to suit, but nobody knows, and the uncertainty is causing the confusion

Brendan Kerr, Keltbray
But it is hard to ignore the looming spectre of Brexit. Already there have been tangible effects: the weak pound has pushed up materials prices over the past two or three quarters, making projects more expensive for contractors that may have tendered for jobs before that. But the biggest problem is uncertainty. "What does Brexit mean, and how will it manifest itself? It's a huge unknown," says Brendan Kerr, chief executive of demolition contractor Keltbray. "If we knew it was going to be armageddon, people would cut their cloth to suit, but nobody knows, and the uncertainty is causing confusion."
A downward trend in project value
Gavin Hamblett, managing director of cladding firm Prater, says its order book is "as strong as ever" but believes the private sector will be hit, as investors become more cautious. "When we look at the value of prospects in the future, we see a downward trend over the next few years."
Anthony Brown, sales and marketing director of fit-out firm BW, says the company has seen no evidence yet of an exodus of banks, for which the firm does a lot of work, and that demand from London's tech companies and alternative workspaces such as We Work is keeping its pipelines healthy. However, he has noted a slowdown among SMEs. "There are a lot fewer projects in the sub 30,000ft2 market. The fit-out industry as a whole has probably declined by 5% this year, which will have an impact on the size of the industry and therefore how people perform within it."
The CPA's findings support these fears. Larkin says: "Immediately after the referendum, the commercial offices sector had a fall in contract awards, and since then we've had consecutive quarterly falls in orders. So there's nothing really coming through to [replace] the projects happening now." She adds: "We're forecasting quite a steep decline in 2018 as that filters through."
While housing is doing well, buoyed by the extension of the government's Help To Buy scheme, there are risks in this sector too, as inflation begins to hit people's pockets and potential further rises in interest rates make mortgages pricier. Any slowdown in this area is likely to hit repair and maintenance firms.
There has definitely been an industry-wide softening of effort and investment in training and development, and we're suffering the consequences

Gavin Hamblett, Prater
Growth set to remain positive
On a positive note, while the CPA forecasts growth across the industry to slow from 0.7% this year to a flat 0% next year, it is not set to dip below that – performance in some sectors will be better than others. The following year, growth is set to rise again, to 2%. And the infrastructure sector, which still has major projects such as HS2 in the offing, is looking in relatively good health. "This is the area where the CPA sees the biggest growth potential," says Larkin. She warns, however, that some government projects are taking longer to deliver than expected, raising questions about capacity, materials and skills between 2018 and 2020.
Larkin's assessment highlights the diverse nature of the specialist contracting sector, and demonstrates why it can be difficult to generalise. This is probably why some are more worried about Brexit than others. "Business has a habit of getting on with stuff and working around the new rules and challenges," says Gary Sullivan, chair of logistics company Wilson James. "Strong businesses will thrive and weaker ones will fall, and it's ever been so." He believes the industry should focus instead on addressing some of its structural weaknesses. "Construction could be a lot more efficient if it adopted the logical practices used in other industries – everything from retail to aerospace to manufacturing. Everyone uses logistics as a margin improver, except construction," he says.
Then there are the smaller companies that have little skin in the game when it comes to the EU. "There isn't a great deal of concern over Brexit among SME specialists, as most are focused on the UK market," says Rudi Klein, head of the Specialist Engineering Contractors' Group. "Not that it won't [be], but at the moment it's not a major concern."
He is worried, however, about the underlying health of specialists: "The financial state of the industry is unhealthy – the ability to access finance is as bad as it has ever been. More than ever before, directors are having to dig into their own pockets to fund their businesses. We have also been seeing a worsening of payment cycles for the past few years."
Klein sees the collapse of Lakesmere as a sign of "major challenges ahead". He says: "It was probably down to a combination of factors, but nothing that would be very different from many other companies. The trouble with construction is that one bad contract could mean the end of you – a lot of companies are on a perpetual knife edge." The problems that large contractors such as Carillion and Interserve are having is a concern too, adds Klein, because problems at the top can have a domino effect. To remedy this, he says, "a lot of subcontractors are trying to get into bed directly with clients".
What most agree on is that a skills shortage is a major risk in the coming years – one that cannot be blamed on Brexit, but that may be exacerbated in the long term if workers' freedom of movement from Europe is curtailed. Prater's Hamblett says: "There has definitely been an industry-wide softening of effort and investment in training and development, and we're suffering the consequences. We're not able to dramatically grow our business at the moment, because it's directly linked to the people we can acquire to support that."
But, as ever with the eclectic world of specialist contractors, there are pockets of light – Hamblett sees increasing opportunities in the North-west of England, and Prater is bolstering its presence in Manchester on the back of securing major projects in the city, such as Manchester Airport and Manchester Business School. "The pipeline is growing, and we're growing our presence there in anticipation that the trend will continue."
The financial state of the industry is unhealthy – the ability to access finance is as bad as it has ever been. More than ever before, directors are having to dig into their own pockets

Rudi Klein, Specialist Engineering Contractors' Group
A ray of light from the Retentions Review
Last month the government launched a consultation on the practice of cash retentions under construction contracts, after an independent review found that 71% of contractors had experienced delays in receiving retention monies. Cash retentions are deducted from monies due to a construction business, ostensibly to provide security if it fails to return to rectify defects, but Rudi Klein, head of the Specialist Engineering Contractors' (SEC) Group, says the system is "used and abused".
Klein says: "The driver is nothing to do with getting people to come and remedy non-compliant work – they need the money because liquidity in the industry is so dreadful." He cites new research for the government by Pye Tait that showed almost £700m was lost by way of retentions due to insolvencies upstream over a three-year period to 2016. "And of course the bulk of that would be funded by specialists. That alone justifies the need for a statutory provision to secure those monies. If an apprentice costs £10,000 that could pay for 70,000 apprenticeships," he says, adding: "It's simply time for us to end this system." Klein believes the matter has been made all the more urgent by the problems experienced by large companies such as Carillion and Interserve – which then have an impact on multiple suppliers.
The SEC Group is calling for an obligation to place all cash retentions in a deposit scheme – similar to the one used in the property rental sector – with parties who fail to do so forfeiting their right to deduct retentions. The consultation, which is seeking responses by 19 January 2018, is likely to report later in the year.