Biomass boiler problems hamper achievement of greater carbon reductions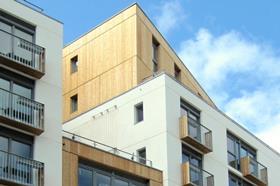 Crest Nicholson and BioRegional Quintain's One Brighton housing development is achieving a 60% reduction in greenhouse gas emissions compared to an average home, according to research.
However, operational emissions from the scheme were found to be more than four times that predicted at the design stage.
The One Brighton housing development, designed by architect Feilden Clegg Bradley, was completed in 2010 and comprises 172 apartments across two blocks.
The project's sustainable features include a living roof, solar photovoltaic panels, a biomass boiler and low carbon concrete.
Analysis, by HTA Design, eTool and FBC Studios, of the building's emissions during its construction and occupation phases found that it emits 1,194kg of CO2 a year per occupant, when operational and embodied carbon emissions are averaged out over the building's 70-year life. This compares with 2,948kg of CO2 a year per occupant from an average British home.
However, although the operational emissions of the building were expected to be just 188kg of CO2 a year, when the data for the study was collected in 2012 it was found to be emitting 812kg.
The report said this was largely due to the building's biomass boiler only working intermittently, forcing the building to use its gas heating system, and therefore not delivering the emissions savings expected.
The report said that if the biomass boiler was supplying 90% of the heating, as intended, the scheme would deliver a 78% reduction in greenhouse gas emissions.
Pooran Desai, BioRegional's co-founder, said the report showed that the "very low carbon fundamentals of this building are sound".
He added: "But we are working to get improved performance from the biomass boiler, to reduce operational emissions and take us to our 2020 target."