TrustMark survey shows one in five homeowners have to get work re-done after employing shoddy tradespeople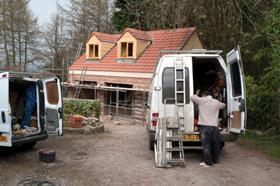 Repeating flawed work done by shoddy builders is costing homeowners £1.9bn a year, a survey for standards body TrustMark has found.
The survey of over 2,000 homeowners found that of those that have used builders, plumbers and other trades over the last year, almost one in five (17%) have had to have work re-done.
It also found that a quarter of respondents (26%) did not know where to get impartial information on choosing a tradesperson; 57% didn't check the tradesperson's qualifications; and 41% said they were not confident they knew who to report problems with a tradesperson's work to.
The survey results come as TrustMark launches tighter standards for builders and other trades that are signed-up to the scheme.
We want to put all rogue or unscrupulous tradesmen out of business

Jenny Willott MP
The revision of TrustMark's standards is the first major action to be completed from the government's Construction 2025 strategy – though it was originally due to be completed by summer 2013. The standards, which have been backed by the government, include checks on firms' financial management, technical competency and health and safety practices. They also entail regular on-site inspection of firms' work.
Consumer minister Jenny Willott said "all legitimate and honest tradesmen" should be a part of the scheme. She added: "We want to put rogue or unscrupulous tradesmen out of business. One of the best ways to do this is to pick out the best businesses, so people know where to turn first for home improvements, maintenance and repairs."
Liz Male, chair of TrustMark, said: "We are using these new standards to set the bar at the highest level for tradesmen, and to empower homeowners to expect the very best from the tradesmen who work in their homes."
Peter Hansford, the government's chief construction adviser, said TrustMark's revised standards were "pivotal to improving the reputation of the UK construction industry".
He said: "Improving the image of the industry with the public is particularly important if we are to attract the next generation into exciting careers in construction."
Chris Blythe, chief executive of the Chartered Institute of Building, added: "So often the good work that is done in mainstream construction like the Olympics is undermined by what happens at the domestic level.
"Delivering assurance to householders is good for them and the industry as a whole."