Survey finds over 20% of homeowners are shelving or delaying plans for work on their homes because they cannot find trustworthy builders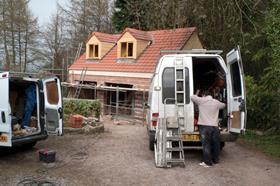 Homeowners are not undertaking repair and maintenance work because they find it too difficult to find builders they can trust, a survey has found.
The survey of over 1,500 homeowners for consumer group HomeOwners Alliance and quality certification body TrustMark found 58% of homeowners reported difficulty finding a builder they trusted.
Among those that have difficulty finding builders, 12% don't do the work at all and a quarter (26%) delay the project.
The survey, conducted by YouGov, found many homeowners (40%) resort to doing the work themselves and 27% only do what is essential.
It also found that women are more likely than men to find it "very difficult" to find a tradesperson they trust to help with either home repairs or improvements.
The survey found that 24% of female homeowners said it was very difficult to find a tradesperson they trusted compared with 17% of male homeowners.
Liz Male, chair of TrustMark said "a nation of homeowners" was "at the mercy of leaflets through the door or findanyoldbuilder.com websites" because they didn't know any local tradespeople they could trust.
She added: "The price we pay are homes lacking TLC, an ever-deteriorating housing stock and the financial burden of £1.9 billion a year paying to fix botched jobs by tradesmen who were just not qualified to do the work.
"This is a ridiculous situation, when we know there are so many excellent tradespeople out there who are totally committed to doing quality work and excellent customer service."
Paula Higgins, chief executive of HomeOwners Alliance, said: "What is particularly worrying is that desperate homeowners are finding it so difficult to find good builders that they resort to delaying work, or simply not doing it all.
"The difficulties of getting good builders mean our national housing stock is ending up in a state of disrepair, affecting the lives of millions of householders."