Able Marine Energy Park will include a quay and manufacturing and servicing facilities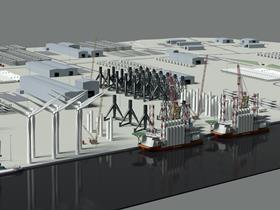 A £450m port on the banks of the Humber to manufacture and service offshore wind farms has been granted planning permission by transport secretary Patrick McLoughlin.
The Able Marine Energy Park will include facilities for the manufacture, assembly and installation of offshore renewable projects and a 1,289m quay.
Construction of the facilitiy is due to start early next year and complete in late 2016.
Developer Able estimated that the project would create 4,000 jobs locally.
Peter Stephenson, executive chair of Able, said the development was "essential for the UK to become a major player" in the offshore wind industry.
He added: "The Humber is ideally placed in close proximity to the world's largest proposed offshore wind farms and, coupled with the scale of the site, the inherent strengths of local people and local businesses, we have the very best package to offer the emerging offshore wind sector.
"We firmly believe that renewable energy offers the opportunity to transform the economy of the South Bank and the Humber region as a whole.