Saur Group chair joins British firm and relocates to London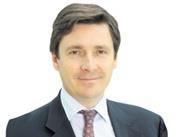 Infrastructure investor John Laing has appointed Olivier Brousse, executive chair of French infrastructure firm Saur Group, as its chief executive.
Brousse will replace Adrian Ewer from 1 March and will relocate to London for his new role.
Phil Nolan, chair of John Laing, said Brousse's appointment left the firm "well placed for the future".
He said: "His outstanding track record at Saur Group and prior to that at Veolia, combined with the strong existing John Laing management team that he will inherit, reassures us that we will retain the solid platform that has delivered John Laing's great success."
Nolan added: "Adrian has given outstanding service to the company – 23 years in total, eight of which as chief executive.
"His leadership has been exemplary, overseeing the strategic shift away from construction to focus on our key target sectors of renewable energy, waste, accommodation, health and transport across the UK, continental Europe, North America and Australasia. He has helped turn John Laing into an investor and manager of infrastructure assets with a portfolio of investments valued at over £650m."
Brousse said he was "delighted" to be joining John Laing. "I look forward to working with Phil and the team to build on Adrian's good work and take the business to its next stage of growth and performance," he said.