Institute to run design competition for new London offices five doors down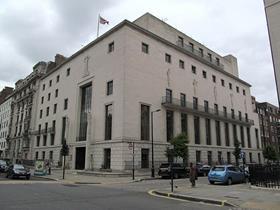 RIBA is to move its historic London headquarters out of the building it built in 1934, it announced today.
The Institute will move to 76 Portland Place, down the road from its current offices at 66 Portland Place.
The current headquarters will be converted into an architecture gallery, learning and debating space.
The gallery at 66 Portland Place, designed by Carmody Groake, will open early next year before the office move.
The new offices will house RIBA's 180 London-based staff from its current offices in 66 Portland Place, 77 Portland Place and 15 Bonhill Street.
The Institute will run a competition to design the offices. It said it wanted the building to be exemplary in its design and as environmentally sustainable as possible.
It will move into the offices before the end of 2014.
Harry Rich, chief executive of RIBA, said the end of the lease on RIBA's offices at 77 Portland Place presented a "wonderful opportunity to bring all of our London team together into one well-designed space".
He added: "Buying a long lease makes business sense because it insulates us from rising rents and the cost will be less than staying as we are. The move will open up exciting opportunities to make 66 Portland Place an ever more vibrant destination for our members and guests."
RIBA president Stephen Hodder added: "Our acquisition of 76 Portland Place is a significant move in the spirit of our predecessors who built our art deco HQ during the Great Depression.
"Not only will the move bring our London-based team together, it will create a wealth of opportunity to develop 66 Portland Place's success as a place for members, staff and the public to experience, learn about and debate architecture."
The RIBA is also opening a gallery at Mann Island in Liverpool – a building which has nominated as one of the worst examples of British architecture last year.
The Broadway Malyan designed buildings, were nominated for the Carbuncle Cup, run by Building's sister title BD in 2012.
Local heritage campaigner Wayne Colquhoun said: "It's a sad indictment to RIBA that they chose to base themselves in an office building which is one of the three known locally as the 'three black coffins' and that has desecrated the best views of Liverpool's world heritage site."
RIBA said the Mann Island gallery would be museum quality and also house the RIBA's North West staff.
A RIBA spokeswoman said the Institute was "committed to engaging the public" and the Liverpool gallery would enhance its ability to do this.
She added: "Its prominenthigh-footfall location, next to the Three Graces, the new Museum of Liverpool, Liverpool One and the attractions of the Albert Dock will mean we can engage with a much wider audience in the North West."