Cesign competition to focus on improving aesthetics of overhead rail electrification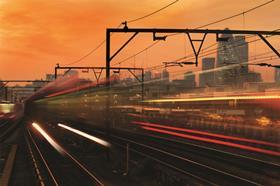 The Royal Institute of British Architects (RIBA) is running a competition to improve the appearance of overhead line electrification.
The competition, promoted by HS2 and the rail industry's Enabling Innovation Team (EIT), coincides with a national programme of rail electrification.
The Department for Transport is funding the competition, and development funding will be available to the shortlist of up to 10 entries.
Entry is open to architects, designers and engineers internationally, and teams or multi-disciplinary entries are encouraged to enter.
David Clarke, Director of EIT said: "I'm delighted to be working with HS2 and RIBA on this exciting competition. HS2 and increased electrification both support rail's need to efficiently accommodate more capacity.
"This is an opportune moment, ahead of HS2 being physically built, to look at the feasibility of improving the aesthetics of overhead line electrification when creating new infrastructure."
The competition will follow the SBRI process, which can be found on its website, and each shortlisted entry will receive up to £15,000 funding for the next development stage.
While initial entries require a digital concept design, the next stage will require producing a scale model of their design.
Applications must be submitted by Wednesday 29th January 2014. Entries can be submitted at www.ribacompetitions.com/ols