Firm behind Swansea's £1.3bn tidal lagoon to build a turbine manufaturing and pre-assembly plant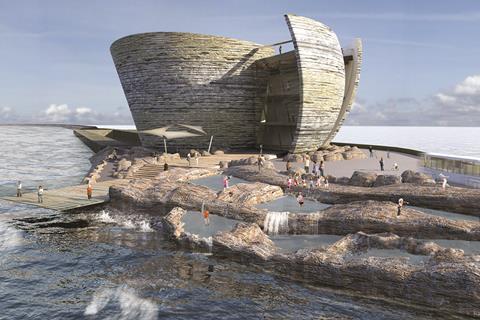 Tidal Lagoon Power is set to build a £22m turbine manufacturing and pre-assembly plant to accelerate its plans for a £1.3bn tidal lagoon in Swansea.
The client has launched a tender for the design and build of the 100m long plant in Swansea Bay.
The plant will be located between the Kings and Queens Dock at Swansea Bay, following a competitive tender of potential locations for the facility last year.
The plant will receive turbine components from manufacturers across Wales and the wider UK, with all machining and pre-assembly of the sixteen 7.2m runner diameter turbines needed for the lagoon taking place on site.
It will initially employ up to 100 skilled workers, with an additional 150 project workers accommodated in an onsite office area.
The tender comes as Tidal Lagoon Power - still to agree a strike price for the Swansea Bay scheme amid a government review into the future of tidal power - launched a report into the benefits of the fledgling power sector.
The report claims the tidal lagoon sector could be worth up to £70bn to UK industry.
It says the immediate opportunity is for the UK's engineering, construction, steel and manufacturing industries to win contracts worth £800m at Swansea Bay and over £6bn for the first project to employ its template at full-scale in Cardiff.
Overall, the report claims the domestic market for tidal lagoon turbines and generators could be worth £17bn, while the domestic market for lagoon housings could be worth £24bn, and exports to the international market valued at a potential £30bn.
The wealthy Gupta family invested a "substantial stake" in Tidal Lagoon Power in February this year, with a view to developing large scale tidal lagoons in India.