Tidal Lagoon Power report claims power from new tidal lagoon could be three times cheaper than from nuclear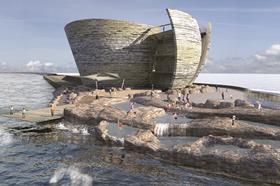 The developer behind the £1.3bn Swansea Bay Tidal Lagoon has published a report, which claims that building tidal lagoons is the cheapest way of generating power for energy bill payers.
Tidal Lagoon Power (TLP) has launched a report and league table, which suggests its tidal lagoon in Swansea will cost bill payers the same as Hinkley Point C, but that its proposed lagoon in Cardiff will be cheaper than all other new power stations in the UK.
According to the league table, new-build nuclear plants including Hinkley will cost bill payers £25.78/MWh over the life of the project once built - the same as Swansea Bay - while a new tidal lagoon in Cardiff would cost bill payers £7.80/MWh.
Tidal lagoons are cheaper due to their "longer lifespan, proven technology and comparatively low construction risk", according to the report's author and TLP analyst Mike Edge.
Tidal lagoons are expected to have a 120-year lifespan, whereas Hinkley is expected to operate for 60 years.
TLP said it was publishing the report and table to provide the "first ever apples-to-apples comparison" of subsidies awarded to power stations and "ultimately paid for by consumers via their energy bills".
Future prospects for the fledgling tidal lagoon sector were thrown into question in February when the government launched an unexpected review of tidal power - which will not complete until the autumn at the earliest.
The developer's non-executive chairman, Keith Clarke, told the Financial Times at the weekend that he feared the review and a government decision on the level of subsidy for the Swansea Bay scheme could be delayed by Brexit.
He said: "My concern is that people are too distracted to get on with the business of government."
Commenting on the decision to publish the report and league table, the former Atkins chief executive added: "We wanted to cut through the confusion and uncover the real consumer cost of new-build powerstations."