Boss dismisses concerns following rebooting of park design competition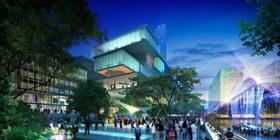 The boss of the £1.7bn West Kowloon Cultural District in Hong Kong has said the project offers "extraordinary opportunities" for UK firms, despite recently cancelling an architectural competition to design the park.
The City is planning a massive development on 40 hectares of reclaimed land in West Kowloon including a modern art museum, opera house, theatre and concert venue.
UK architects Foster + Partners, Wilkinson Eyre and Grimshaw had all been in the running to design the park's green spaces, was cancelled and then relaunched in a different form last month.
But speaking in London yesterday Michael Lynch, chief executive of the West Kowloon Cultural District Authority, sought to encourage UK firms to take part.
He said: "I think it provides extraordinary opportunities for both the art organisation and for various businesses in Britain to contribute."
"Clearly Britain has huge resources of experts that we will be very happy to use on the project," he added.
Firms already working on the scheme include Mott Macdonald, Arup and Rider Levett Bucknall.
He dismissed concerns about restarting the design competition saying it was just an "expression of interest" that had been received by the authority.
But he said the West Kowloon Cultural District Authority had had to make changes to the "scale and scope" of that part of the development at the behest of the Hong Kong government.
Breakdown of development by area
Arts and culture venues 34%
Retail, dining and commercial space 16%
Residential accommodation 20%
Office space 15%
Hotels 7%
Other arts space 5%
Other 3%